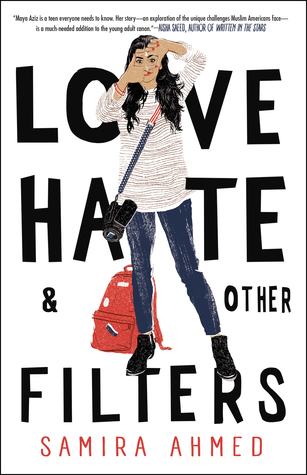 Love, Hate & Other Filters by Samira Ahmed
Published by Soho Teen
Review copy provided by the publisher
Maya Aziz is seventeen and feels as though she's caught between two worlds – the life her parents want her to lead as a dutiful Indian daughter, looking to be paired up with a Muslim boy that they choose for her, and the life of a typical Chicago-area teenager, hanging out with her friends and crushing on the white boy she's not allowed to date. When a crime is committed far from her neighborhood, issues that Maya has ignored for years within her community suddenly come to the surface, and her teenager problems don't seem so bad anymore, now that she is facing real issues.
This was an interesting novel for me because I appreciated what Samira Ahmed did with the plot of this book. The first half of the book is very YA with a multicultural twist – teenage girl with parents who don't understand her, she has a crush on a guy who is "wrong" for her, she is culturally different from most of her friends but in general fits in pretty well, you know the drill. Very standard but good for YA stuff. Then halfway through the book, this Major Event happens, and supposedly changes the way that the main character, Maya, sees the world around her and possibly herself. Although, to be honest, I'm not sure how successful the melding of these two story lines was, and that's the main issue I had with the novel.
I felt that Ahmed was trying to do too much with the book in a way that never really gelled for me. I believed in Maya as a character, and I was definitely on board with the whole dating a guy her parents chose for her while at the same time starting up a friendship with this other guy who she truly liked but knew she wouldn't be "allowed" to actually date – that felt very YA and very fun for me to read. I just wish that the terrorism stuff wasn't made to be this huge thing in the book because while it of course is a huge thing, in the book and in real life, I'm not sure that Maya as a character treated it as such, which felt a bit inauthentic to me and didn't mesh with the Maya I thought I'd gotten to know throughout the beginning of the book. On the other hand … as I'm writing this I also feel that Maya handled the situation like any other teenager would – yes it's a big deal, yes she has to think about things a bit differently, but there's school and boys and getting into college and all that other stuff on her mind. So I'm torn.
Overall I did like the writing, did like the main character, and strongly believe in more books being published that do what Love, Hate & Other Filters does. So I do recommend the book, even though I personally felt that some aspects of the plot fell short.