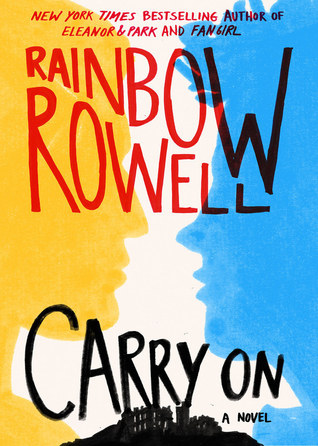 Carry On by Rainbow Rowell
Published by St. Martin's Griffin
From the publisher:
Simon Snow is the worst chosen one who's ever been chosen.
That's what his roommate, Baz, says. And Baz might be evil and a vampire and a complete git, but he's probably right.
Half the time, Simon can't even make his wand work, and the other half, he sets something on fire. His mentor's avoiding him, his girlfriend broke up with him, and there's a magic-eating monster running around wearing Simon's face. Baz would be having a field day with all this, if he were here—it's their last year at the Watford School of Magicks, and Simon's infuriating nemesis didn't even bother to show up.
Carry On is a ghost story, a love story, a mystery and a melodrama. It has just as much kissing and talking as you'd expect from a Rainbow Rowell story—but far, far more monsters.
*Sigh*. I probably shouldn't have even read this book. While reading Rowell's Fangirl (a book I loved) my least favorite sections were the Simon Snow fanfiction. In fact, I actually skipped a couple of those sections because I didn't really care and wanted to get back to Cath's story. But because I have loved everything else Rainbow Rowell has written, I decided I had to read this book, too. And as I feared, I didn't love it. I am not even sure I liked it. *hangs head in shame*.
There were things about it I liked, certainly. Agatha! Love her. And wow does Rowell know how to write unrequited love. And kissing scenes. And friendship. And dialogue. She is great, truly she is, and I can see some good elements of the book – some of the same elements I've loved in her other books.
BUT. The plot was kind of all over the place. To the point where I couldn't really focus on it, I kept getting confused, and there was a ton of stuff that I felt should have been eliminated altogether (probably 200 pages worth, in my opinion). And I get that the parallels to Harry Potter were supposed to be obvious and they were supposed to be acceptable and actually sort of the whole POINT – but it annoyed me. Every time I was like, "oh that character is Dumbledore" or whoever (and this happens over and over and over again), I was annoyed. Every. single. time.
I knew this wasn't going to be my thing going in, yet I hoped I was wrong, and I turned out to be right. Oh well. I guess I don't have to love everything an author writes to still consider her a favorite author – right? RIGHT?