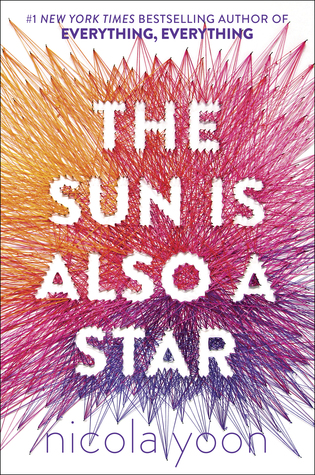 The Sun is Also a Star by Nicola Yoon
Published by Delacorte Press
There is so much to love about this book. It is adorably funny, heartwarming and heartbreaking, full of witty dialogue and moments of true connection between the characters. Oh and also the characters – these are two incredibly interesting, complex, compelling teen protagonists who are almost impossible not to fall in love with and root for throughout the entire novel. It's just such a fantastic read in just about every way.
I've seen some criticisms about the book being an instalove situation between the two main characters, Natasha and Daniel, but I truly didn't see it that way. I saw a bond that developed very quickly but one that looked and felt genuine as I read their story. Pragmatic, intellectual Natasha doesn't want to believe in the romantic dreamer that she sees in Daniel, but he is just so kind to her, seeing something in her that she can't see in herself, that she does fall for him super quickly. But it didn't feel fake to me – it felt like a thing that could (and I'm sure does) actually happen to real people.
This isn't just a YA romance, there are serious issues at play in the novel. Natasha's family is going to be deported the same night that the book takes place, as her parents brought them here on legal visas ten years ago from Jamaica and simply never left. So while Natasha is falling in love with Daniel over the course of this one single day, she's also making her way to several attorneys' offices and government agencies to attempt to find someone who will take pity on her family's situation and allow them to stay long enough to become legal residents of the US. For Natasha, everything is at stake, and as Daniel begins to fall for her, he feels her sense of urgency as much as if it were his own family being deported to another country. The fact that Yoon took this very real issue of immigration that so many people in our country face on a regular basis and turned it into a YA romance novel is fantastic and I absolutely loved seeing the issue from this unique perspective.
I'm not going to spoil anything but I will say that the ending was just perfection and I couldn't have loved it any more. Having loved Everything, Everything and now this novel, I am certain that Nicola Yoon can do no wrong and I will continue to read and love her novels. Highly recommended.