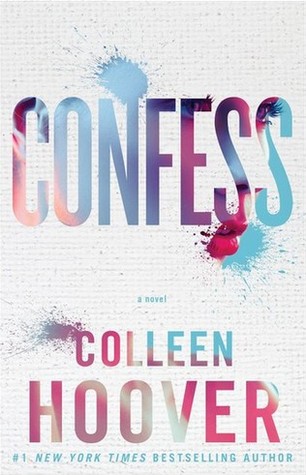 Confess by Colleen Hoover
Published by Atria Books
From the publisher:
Auburn Reed has her entire life mapped out. Her goals are in sight and there's no room for mistakes. But when she walks into a Dallas art studio in search of a job, she doesn't expect to find a deep attraction to the enigmatic artist who works there, Owen Gentry.
For once, Auburn takes a risk and puts her heart in control, only to discover Owen is keeping major secrets from coming out. The magnitude of his past threatens to destroy everything important to Auburn, and the only way to get her life back on track is to cut Owen out of it.
The last thing Owen wants is to lose Auburn, but he can't seem to convince her that truth is sometimes as subjective as art. All he would have to do to save their relationship is confess. But in this case, the confession could be much more destructive than the actual sin…
You know what, this was an enjoyable novel that was an extremely quick read. I loved Hoover's Maybe Someday, so I was anxious to pick up another one of her novels, and Confess did not disappoint. It didn't quite have the edge that Maybe Someday had, but this was still a fun read.
I liked Auburn and I liked Owen and they were great together, too. I do have to say that the whole "girl gets confidence because a guy tells her to be confident" thing is annoying, and I didn't love that Auburn only felt that she could stand up for herself once Owen told her she should, but I'm choosing to pretend that is not the central theme of the book (it's not. Well maybe it kind of is. Whatever. I liked it anyway, okay?!) The relationship with them was a bit of the instalove variety, but they shared so much about themselves in a short period of time that it wasn't JUST a physical thing, which I appreciated.
I'm not going to pretend that important things in the novel weren't wrapped up in unrealistic, tidy little bows, because they definitely were, but I liked it anyway. I think that what Hoover chose to do with her characters was slightly out of the norm and I was happy with how everyone's stories ended up. Yes it was too pretty of an ending, but so what? I had fun reading it.
After just two of Hoover's novels, I can see that she has a distinct style that I both love and could possibly get annoyed with very quickly. For that reason, I'm going to shy away from her books for a bit so that the annoyed part doesn't happen. For contemporary YA bordering on new adult, I do really like her and would recommend picking up her books.