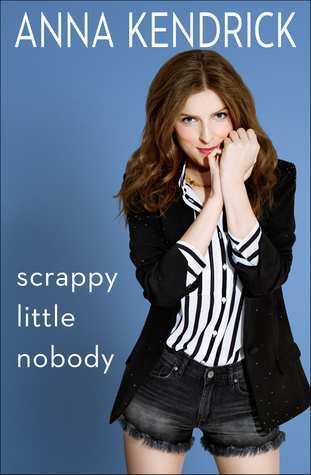 Scrappy Little Nobody by Anna Kendrick
Published by Touchstone
From the publisher:
Even before she made a name for herself on the silver screen starring in films like Pitch Perfect, Up in the Air, Twilight, and Into the Woods, Anna Kendrick was unusually small, weird, and "10 percent defiant."
At the ripe age of thirteen, she had already resolved to "keep the crazy inside my head where it belonged. Forever. But here's the thing about crazy: It. Wants. Out." In Scrappy Little Nobody, she invites readers inside her brain, sharing extraordinary and charmingly ordinary stories with candor and winningly wry observations.
With her razor-sharp wit, Anna recounts the absurdities she's experienced on her way to and from the heart of pop culture as only she can—from her unusual path to the performing arts (Vanilla Ice and baggy neon pants may have played a role) to her double life as a middle-school student who also starred on Broadway to her initial "dating experiments" (including only liking boys who didn't like her back) to reviewing a binder full of butt doubles to her struggle to live like an adult woman instead of a perpetual "man-child."
Enter Anna's world and follow her rise from "scrappy little nobody" to somebody who dazzles on the stage, the screen, and now the page—with an electric, singular voice, at once familiar and surprising, sharp and sweet, funny and serious (well, not that serious).
I am a huge fan of Anna Kendrick. Pitch Perfect is one of my favorite movies, and I just love her style, her attitude, and she seems to have a great personality. Yes, she's a celebrity, but she seems very down-to-earth to me and like someone I could be friends with.
I'm glad I read this book because it confirmed everything I already felt to be true about Kendrick. She's funny, but not silly funny, she has a sharp, smart witty sort of humor that fits with my style. I enjoyed getting to know her and found her charming and interesting along with funny.
I can't say there's anything revolutionary in the book in terms of the actual content, but I found a lot of her stories interesting and certainly entertaining. There's a glimpse into show business, some behind the scenes commentary on some of the movies she's done, and a lot about her personal experiences growing up – and while some of the stories are pretty random, there were some pretty hilarious ones in there, too.
What I would say as far as criticism is that I didn't feel enough of a flow to the book – while I realize this is an essay collection and not a classic memoir, it felt a little all over the place without anything connecting each of the different sections to each other. Other than that, though, I really enjoyed this journey through Anna Kendrick's brain and I'd highly recommend it if you are a fan of hers.
One other thing – I listened to the audio of Scrappy Little Nobody and I absolutely recommend that if you do choose to read the book. Kendrick narrates herself so it really feels as though she is talking to you, letting you in on her life stories and the way her brain works. I really enjoyed the experience and it for sure enhanced the overall quality of the book for me.
Final verdict – if you are an Anna Kendrick fan, this is a must-read. If you're not familiar with her, you probably wouldn't enjoy the book too much.