The One & Only by Emily Giffin
Published by Ballantine Books
Emily Giffin is an author I usually adore – one of the few authors I've read every single one of her books and loved them all. The One & Only features Shea, a thirty-three-year-old woman who lives and breathes her college football hometown – she has stayed in the town her entire life, and even works at the University as an adult. Her best friend, Lucy, is the daughter of the legendary coach of the University's football team, and has always been a father figure in Shea's life. Until Lucy's mom passes away, and Shea finds herself having feelings for the coach.
So I didn't love the premise of this novel. I also have zero interest in football. The ONLY reason I read it is because, duh, Emily Giffin. I shouldn't have been surprised when I didn't love the book, but it just did not work for me. I didn't believe in the relationship between Shea and Coach – the first chapter of the book is his wife's funeral, and 75 pages later they are flirting! It was just weird. It made it difficult for me to like Shea herself, and I couldn't relate to her at all. Plus, football, no thank you. Maybe other readers will have a better reaction to this book than I did, but it was just not my thing.
Carry Me Home by Sandra Kring
Published by Delta
This is the story of a rural Wisconsin family as their oldest son joins the military and goes off to war in 1940. Jimmy is eighteen years old when he enlists in the military and leaves his parents, girlfriend, and sixteen-year-old brother Earl "Earwig" behind. Told from Earwig's perspective, this is a story about how war affects even the most innocent among us, and how people are changed forever because of it.
Earwig isn't the smartest kid – he probably has some kind of intellectual development disorder – he has difficulty counting change at his family's store, he gets along better with ten-year-olds than with teens his own age, and it's clear that his family treats him differently from how they treat Jimmy. But Earwig might just be the most astute observer of the atrocities of war out of all these people. He gets it in a way that adults with their rational thinking and their intellectual debates simply can't, or won't. I really liked this novel and cried several times while reading it. I hadn't read anything by Kring before but this one definitely won't be my last.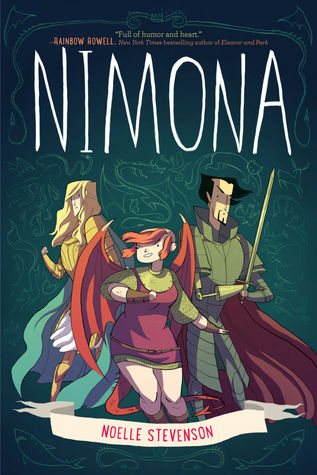 Nimona by Noelle Stevenson
Published by Harper Collins
Nimona is a young shapeshifter who is looking who is looking for a villain to hang out with. Enter Lord Ballister Blackheart, a villain with a mission, also a guy who didn't know he needed a sidekick. Together the two team up to show the world that the head of the Institution of Law Enforcement and Heroics isn't the perfect hero everyone thinks he is.
Everyone has been raving about this gorgeous graphic novel, and I completely see why. The illustrations are amazing. Nimona herself is an incredible heroine, she has a dark past, she can be terrifying at times but is tenacious and strong, wanting to right the wrongs of the world, and is ultimately looking for someone to recognize and value the humanity in her. This books turns the idea of heroes and villains upside-down as it's clear that there is no black and white good guys and bad guys – everyone here is just doing the best they can.
There's so much more to love about Nimona that I can't even explain properly. Nimona herself is not your traditional beautiful superhero – she's average-sized with bright red hair that's shaved on two sides. The villain and hero in this story are former lovers and best friends who now have vendettas against each other – oh and they're both guys, and that's not even discussed, and the fact that it doesn't have to be discussed is GREAT. Please read Nimona! It's awesome.