This year, I've really tried to jump into the world of comics in my own way. I had never really read comics before, but after trying Saga and Fables and loving one and not so much the other, I decided to continue trying more. Here's what I've been reading lately.
Saga, Volumes 2-5 by Brian K. Vaughan and Fiona Staples
Published by Image Comics
This series is truly a wild and crazy ride and I absolutely love it. There is interplanetary warfare, star-crossed lovers, all kinds of species living together in harmony and in the total opposite of harmony, tons of female badassery and a central plot that revolves around one family's undying love and support for each other. I haven't reviewed each individual volume because, to be honest, they all kind of run together in my head as one full story, but I've enjoyed every second I've spent inside this world and with these kick-ass characters.
Lumberjanes, Volumes 1 and 2 by Noelle Stevenson, Grace Ellis, Shannon Watters, Brooke Allen, and Maarta Laiho
Published by BOOM! Box
Lumberjanes is an adorable and quirky comic series about hardcore lady campers who constantly have major challenges to what is supposed to be a fun camping experience with friends. The first volume is a little bit crazier than the second, which delves a bit deeper into character development and has fewer hi-jinx, but both volumes were really fun to read. I loved how the characters are so very different, yet together they make this amazingly tight-knit group of friends who really care for each other. I loved that Stevenson sprinkles so much feminism throughout what the girls say and do. I had really high expectations for this comic in particular before I started it, so I am not sure I fell as much in love with it as I was hoping I would, but I really, really like it and will definitely continue the series.
Alex + Ada, Volume 1 by Jonathan Luna and Sarah Vaughan
Published by Image Comics
This one REALLY hooked me. The basic premise is that Alex's grandmother sends him an X5, the newest model of realistic androids, as a companion for him. Alex had no interest in this type of companion, and almost sends it, who he names Ada, back at one point, but decides against it. Then things get interesting. I seriously loved this comic and am so excited to see where it goes. The end was a pretty big cliffhanger and I'm really looking forward to reading the next volume. I think this will end up being an absolute favorite series of mine.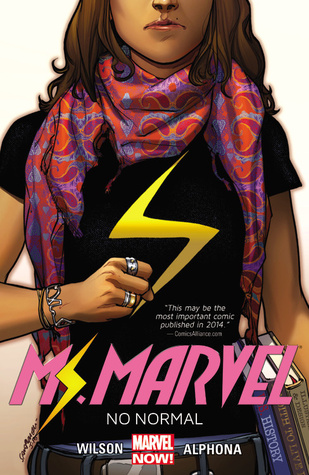 Ms. Marvel, Volume 1: No Normal by G. Willow Wilson and Adrian Alphoma
Published by Marvel
This comic is about an ordinary Muslim girl named Kamala living in Jersey City who discovers that she has a hidden superhero-like power and personality inside of her. I had really high hopes for this one, and I really liked it, but it wasn't quite as incredible as I was expecting. I'm thinking I will need some time for the characters to develop before I really fall in love. But I did like it! I enjoyed how fast-paced things were once the superhero powers came to light, and I loved how the internal struggle Kamala had to deal with balancing her "normal" self with her new self was shown on the page. Also, who doesn't want more diversity in books? I am sure young Muslim girls who don't see a ton of people who look like them or share similar beliefs to their families' beliefs will love seeing Kamala on these pages. I'm definitely looking forward to reading more of this series.