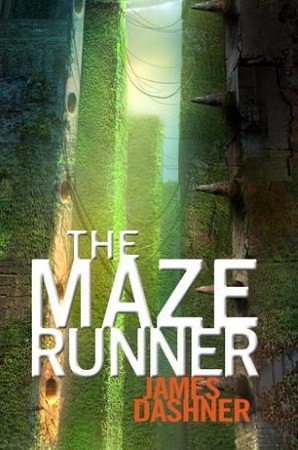 The Maze Runner by James Dashner
Published by Delacorte Press
From the publisher:
When Thomas wakes up in the lift, the only thing he can remember is his name. He's surrounded by strangers–boys whose memories are also gone.

Outside the towering stone walls that surround the Glade is a limitless, ever-changing maze. It's the only way out–and no one's ever made it through alive.

Then a girl arrives. The first girl ever. And the message she delivers is terrifying.
The first two volumes in this trilogy have been sitting on my bookshelf for what feels like forever, but it was a combination of it being a book club pick and the movie coming out soon that got me to finally read it. Overall, I was pretty impressed by this dystopian novel that is like nothing I've read before.
What's different about The Maze Runner is that you know absolutely nothing about this world for pretty much the entire book, along with our main character, Thomas. Thomas and the rest of his new friends in the Glade (aka Gladers) have no memories of their time before the Glade, and they have no knowledge of what exactly their purpose is in the Glade. They think they have to figure out a way out of this huge maze, but they're just guessing, really – and as the book goes on, it seems more and more likely that there's no possible way out of the maze. And if they're not supposed to get out of the maze, what could possibly be the point of their existence?
The reader, and Thomas, glean a little understanding of that very question by the end of the book, but things are left extremely fuzzy and there are still a ton of unanswered questions. At my book club meeting, we had a LOT to discuss because there is so much that you can speculate based on the lack of real information Dashner gives the reader about what's going on here.
I thought that the pacing of the book was just perfect for this kind of novel. I couldn't put the book down, anxious as I was to get some answers. I also liked Thomas as a character although it bugged me how quickly he figured things out in this world when it took the other Gladers forever just to get their bearings. I guess that's just supposed to tell us that Thomas is special, somehow. Dashner did a good job developing his characters and creating very distinct personalities among all of these boys.
I liked The Maze Runner a lot and I definitely recommend it!