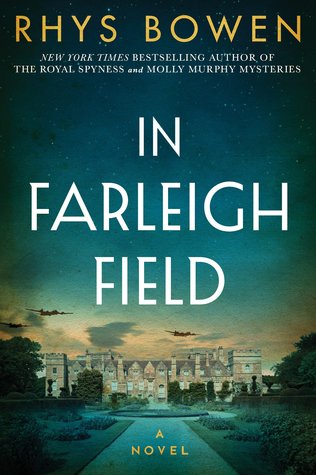 In Farleigh Field by Rhys Bowen
Published by Lake Union Publishing
This novel centers around Lord Westingham and his wife and five daughters who reside at Farleigh Place, an elaborate estate about an hour away from London in the first few years of World War II. Family friend Ben Creswell is tasked with uncovering the mystery of a British airman who fell from the sky and perished in fields of Farleigh, a job that brings him closer to the woman he loves, Pamela, the middle Westingham daughter. Meanwhile, Pam is working in covert operations decoding German radio broadcasts while her lover, Jeremy, is stuck at a German war camp as a POW. Pam's sister Margot is in Paris, choosing to stay with her French lover Gaston who may or may not be part of the Resistance there, and this relationship begins to put Margot in jeopardy. The novel shows how this war affects everyone in Europe, from the richest of them all to the poorest folks, and these characters become an integral part of the war effort.
This is an interesting novel because while it centers around the Second World War, it's rather mild in its handling of the horrors of the war. This could be for two reasons. One, it's the early stages of the war, so the characters haven't truly understood the full reality of what's at stake here and what Hitler is really capable of. Two, these characters are the most privileged of the British, so even how the war affects them is mild compared to the people who were in London at the time, getting bombed all over the place, losing homes and businesses and everything. It was interesting to see the war from this perspective, although a little strange because knowing the history, things got a LOT worse for people like the Westinghams before they got better.
Anyway, the biggest plot point of this story is around the man who landed in Farleigh Field after his parachute failed to open – who is he? Is he a German spy? Is he truly a British soldier? Why did he flee his plane directly over Farleigh? Ben is tasked with uncovering this mystery, and ultimately the mystery is solved by Ben and Pamela working together. The way that Bowen wrapped up this mystery made sense and, while fairly predictable, I didn't totally guess until close to the very end.
Another big element of the story itself were the characters within it. I had a love-hate relationship with most of the characters. Pamela was extremely frustrating – she had a very important job, but she still thought very little of herself to the point that she wasn't really that proud of what she was doing. She was also in love with a total asshole (Jeremy) and unable to see the amazing guy right in front of her who was in love with her (Ben). I liked Margot, but honestly I would have liked to see more of her story and less of Pamela's, she seemed much more plucky and interesting than her sister. There was an older sister who was married and mostly on the sidelines, a younger sister who was slightly too young to be a major character (18) and a much younger sister who was a part of the story but just a kid – although she ultimately became the hero by the end of the book.
I liked the book but overall it was just okay. It held my interest and it kept me wanting to find out how the mystery would turn out, but as a war novel it was overall a bit disappointing. I think I've read so many World War II books that at this point, I expect there to be a ton of emotion, heart, and high stakes in these books, and In Farleigh Field just didn't have those elements. So, overall not my favorite, but definitely an interesting concept and I liked that it was set in a time and place during the war that I hadn't read much about before.