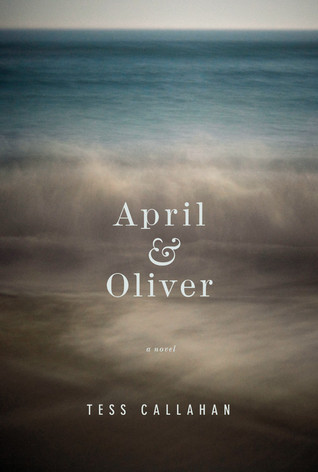 April & Oliver by Tess Callahan
Published by Grand Central Publishing
From the publisher:
Best friends since childhood, the sexual tension between April and Oliver has always been palpable. Years after being completely inseparable, they become strangers, but the wildly different paths of their lives cross once again with the sudden death of April's brother. Oliver, the responsible, newly engaged law student finds himself drawn more than ever to the reckless, mystifying April – and cracks begin to appear in his carefully constructed life. Even as Oliver attempts to "save" his childhood friend from her grief, her menacing boyfriend and herself, it soon becomes apparent that Oliver has some secrets of his own–secrets he hasn't shared with anyone, even his fiancee. But April knows, and her reappearance in his life derails him. Is it really April's life that is unraveling, or is it his own? The answer awaits at the end of a downward spiral…towards salvation.
This is not a novel that has a ton of plot, nor is it a book that moves quickly. It is very character-focused – it is a spotlight on these two characters, with a few others factored in, and if you don't like that kind of book you should probably pass. But if you do, April & Oliver has a lot to offer.
April had an extremely tough childhood and her adulthood has not been great either. As a result, she is the type of person who walks through her life pretending to be okay, but really she has been shaken to her core from all that has happened to her, and has chosen to react to her grief and pain in inappropriate ways. Oliver is there for her, but he almost tries too hard and ends up letting his own life be affected by her in dangerous ways. Oliver has a fiancee, who can clearly see that there's some unsaid history between the two of them and is of course suspicious of their relationship.
I found these characters extremely nuanced and interesting. The book has a gloomy, depressing feeling throughout, yet I couldn't stop reading. I continued to hope, despite clear evidence to the contrary, that April would figure herself out and improve the way she felt about herself and her life circumstances. I continued to hope, despite the fact that Oliver was happily engaged, that the two of them would get together. It just felt like no one understood April like Oliver did and no one would be able to help pull her out of her depression and help her live a happy life like he could.
The writing in April & Oliver was quite beautiful and I think that, in combination with how drawn in I was to these characters, was what kept me turning pages in a book that had very little in the way of plot. One major thing that I didn't like about the book was the ending, which is problematic. That being said, I did really enjoy the time I spent with this novel and I've continued to think about the characters, long after I've finished it.