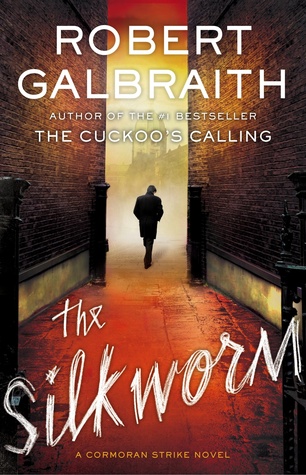 The Silkworm by Robert Galbraith
Published by Mulholland Books
From the publisher:
When novelist Owen Quine goes missing, his wife calls in private detective Cormoran Strike. At first, Mrs. Quine just thinks her husband has gone off by himself for a few days—as he has done before—and she wants Strike to find him and bring him home.

But as Strike investigates, it becomes clear that there is more to Quine's disappearance than his wife realizes. The novelist has just completed a manuscript featuring poisonous pen-portraits of almost everyone he knows. If the novel were to be published, it would ruin lives—meaning that there are a lot of people who might want him silenced.

When Quine is found brutally murdered under bizarre circumstances, it becomes a race against time to understand the motivation of a ruthless killer, a killer unlike any Strike has encountered before…
Robert Galbraith, AKA J.K. Rowling, has done it again – written an engaging, thoughtful, suspenseful mystery with fully realized, interesting characters, and overall created another novel that I just could NOT put down.
The Silkworm is darker, grittier, and more gruesome than the first book in this series, but weirdly the gore didn't bother me (much). It felt appropriate to the story and I didn't feel that it was gratuitous at all. But I feel it's important to warn you – there is some gross stuff happening here. The details of Quine's murder and exactly how he was murdered are pretty horrific, but you'd just have to read the book to understand that it fit the context of Quine's personality and his life and everything just right.
I don't even know what to say about The Silkworm, I just enjoyed it SO much. Besides the suspense of trying to figure out the murderer (and it was quite suspenseful, there were LOTS of possible suspects with valid motives), I just loved getting to know Strike and Robin more and I loved the inside look into publishing – something it's clear Rowling has lots of personal experience with. The way Strike and Robin are developing as characters throughout this series, so far at least, is perfection in my book. The reader is given some of them, but not too much, enough to intrigue and keep reading and keep hoping to get to know them better as the series progresses. The relationship between the two of them took an interesting course in this book but I trust Rowling not to steer them wrong. I also loved how much more involved Robin was in the private investigating, as it definitely seems like she's going to figure even more prominently in Strike's practice as this series continues.
I just loved The Silkworm and there's not much else I can say about it. Galbraith is Rowling at her absolute finest and I'm so excited to continue reading these books.