No Parking at the End Times by Bryan Bliss
Published by Greenwillow Books
Abigail and her brother Aaron have just been moved across the country to San Francisco with their parents and only the possessions that fit into their family's van. Their parents have decided to follow a religion headed by a man named Brother John, who has dictated that the end times are here, and San Francisco is where the true followers will be saved. But when the date for the end times comes and goes, the family is homeless, with neither of Abigail's parents able to bring in money to feed and take care of their teenage children. It is up to Abigail, and Aaron if she can convince him, to save their family.
Religious cults fascinate me, so I was interested in this book based on the premise alone. I mostly enjoyed it. Abigail and her brother were believable – acting just like teens in a situation such as this would have – their parents, not so much. I have such a hard time understanding why someone would make their children homeless willingly, and I'm not sure this book did a good enough job convincing me that this particular cult leader was compelling enough to get these parents to make these horrific choices for their family. Other than that, the story was heartwarming and I thought that by the end, Abigail proved herself to be a tough, smart, resourceful character that I really could get behind. Recommended for those who are just as fascinated by cults as I am!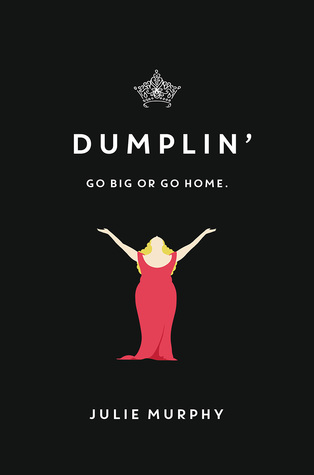 Dumplin' by Julie Murphy
Published by Balzer + Bray
Willowdean is a self-proclaimed fat girl who has always been confident in her own skin and proud of who she is. But when she falls for the hot jock Private School Bo, she is shocked to discover that he may be falling for her, too – causing her to have a sudden onset of insecurity she's never felt before. To improve her confidence, she enrolls in the local beauty pageant – the most horrifying out-of-her-comfort-zone thing possible for her. Along the way, she not only faces her insecurities head-on, but she makes some true friends and shows the small town where she lives what true beauty is all about.
I thought this book was just adorable. I love how it deals with fat-shaming head-on, with fat acceptance, and with the fact that EVERY single person in the world faces insecurity and moments of self-doubt. I loved Willowdean's group of misfits who became great friends throughout the pageant experience, girls who before the pageant would never have opened up to one another. I didn't love how it was as soon as a guy started to show interest in Willowdean that she began to doubt herself – almost as though her confidence was based upon what this guy thought of her – but I thought that it was incredibly realistic for her to be this way. That's how a teenager's brain works, and if we're being honest with ourselves, all of us care about what others think, all of our confidence levels can be shaken when we start to care about others' opinions. I just really, truly enjoyed Dumplin' and I loved everything that Julie Murphy did here.