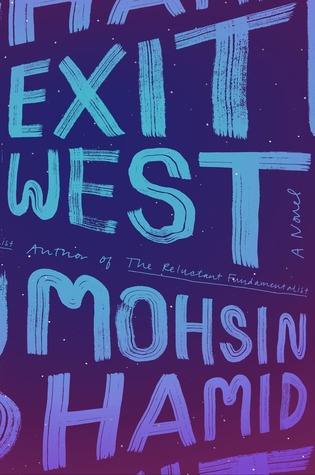 Exit West by Mohsin Hamid
Published by Riverhead
Nadia and Sayed meet just as their country is fracturing into a terrifying civil war, and as their love grows, their city becomes a war zone right before their eyes. When they hear rumors about doors that take people away, to somewhere far away from the chaos around them, they decide to learn more. This is the beginning of the adventure the two of them journey on together as they escape from the terrors in their hometown and find themselves in a new place every couple of months.
There is no doubt that the premise of Exit West is extremely compelling and unique; in fact the interesting premise is the exact reason I decided to pick up the book. While I enjoyed a few things about this novel, overall I was more in the camp of finding it unsuccessful than many other readers.
What I really liked about the book was the writing – it was a really cool mix of poetic and concise, telling the reader exactly what he/she needed to understand while at the same time telling the story in a beautiful way. Honestly I may have been more annoyed with the book overall if the writing hadn't been so gorgeous. I also liked the relationship between Nadia and Sayed, especially in the beginning – I loved reading as they got to know each other, as their relationship developed from friends to dating to something much more serious. I found it fascinating how they managed to navigate their lives and their relationship despite the fact that it felt as though the world was collapsing all around them.
Ultimately my issue with the book was that I felt it was almost two separate books – did the author want to write a book about war, or did the author want to write a science fiction-y book about doors that take people to new places? I had hoped that these two concepts would come together in a way that I found cohesive, but unfortunately I didn't personally find that to be the case. There were also some issues that I had with the later parts of Nadia and Sayed's relationship, but I feel that these details are a bit spoiler-y so I'll avoid the specifics.
I have to say that despite my issues with the book, I did enjoy the experience of reading it. But since the main thing I didn't like about the book is pretty much the core of the entire thing, I find that to be pretty important. A lot of readers have loved this one, so don't take my word for it – try it for yourself and come back to tell me what you think.