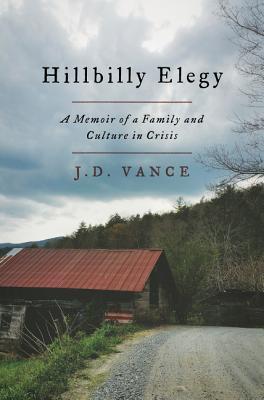 Hillbilly Elegy: A Memoir of a Family and Culture in Crisis by J.D. Vance
Published by Harper
Hillbilly Elegy is J.D. Vance's memoir of growing up in a poor Appalachian town, a book which details his personal experiences growing up and how he escaped the poverty that was a fixture of his childhood. He also muses quite a bit about why he believes people from this area of the country have such a hard time turning their circumstances around and the ways in which politics and inherent beliefs of the area are a detriment to the people from this area.
I hold two separate opinions about this book and while they are at odds with each other, I think it makes sense to feel conflicted about Vance's memoir. On the one hand, his story is an interesting one and should absolutely be seen as inspirational. He grew up in a poor, rural community with no support from his father, very little support from his sometimes drug-addicted mother, and all odds pointed to the probability that he would skip college, find a dead-end job, and end up in a similar situation for himself as an adult. This did not happen, and Vance credits his own perseverance as well as the emotional, physical, and monetary support he received from his maternal grandparents as the primary reasons he was able to go to college, move to a town with better opportunities, marry a person he truly loved and respected, and find a well-respected, well-paying job. So on the one hand, I liked hearing Vance's story and it reminded me a bit of my own personal story – I grew up in the Chicago suburbs, not Appalachia, but I, too, grew up without much money and managed to work my own way through college, subsisting on grants and loans and three part-time jobs at the same time, earning a degree and finding a great career. So I related to his struggles in some ways and understood the determination he felt to get himself to a different situation than what his parents were able to provide for him growing up.
On the other hand, he makes a lot of sweeping generalizations about the people in Appalachia that I'm just not sure his personal story gives him the right to make. Yes, he experienced this culture first-hand, so of course he has a unique view and understanding of some elements of it that outsiders can't possibly understand. However, his experiences are his own, and the links he creates from his own experiences to those of others living in the same part of the country are weak in some places. I'm not saying that he doesn't have the right to make observations and even draw conclusions about the culture that he grew up in; just that I think some of his generalizations are a bit too general, if that makes sense. What's true for his family and his life isn't necessarily true for everyone else around him.
That being said, however, I did really enjoy this memoir and it gave me a lot of food for thought. I would resist drawing too many political or socioeconomic conclusions from its content; however, as I said, this is a book about one person's experiences and may not translate to everyone who is from the same part of the country.
I listened to the audiobook of Hillbilly Elegy, which is narrated by the author. It was really well done and definitely gave a feel for the author's thoughts and feelings – as though he was telling the reader his own story, with his own voice and inflections. I would definitely recommend the audio.
Overall, I liked this one a lot but found it had a few problems. Still I would recommend for those who like memoirs.