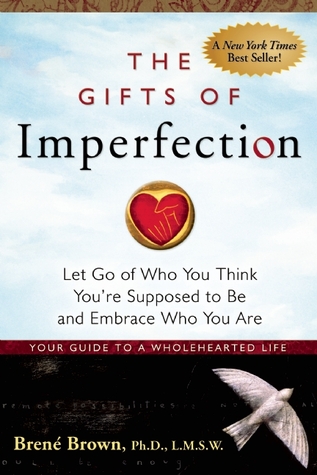 The Gifts of Imperfection: Let Go of Who You Think You're Supposed to Be and Embrace Who You Are by Brene Brown
Published by Hazeldon Publishing
I'd long heard Brene Brown's name mentioned as a writer similar to Cheryl Strayed or Elizabeth Gilbert (two of my favorites), so I was excited to pick up my first book by Brown and experience her thoughts for myself. Unfortunately, this book wasn't quite what I was hoping for and I'm sure that's the fault of my own and not of the writer, for a few reasons.
It's funny that at the end of the book Brown explains that this wasn't meant to be a self-help book in the traditional sense, but for me I found that it was a bit too self-help-y, so I almost laughed out loud when I got to the end of the book and heard that part (I listened to the audio, so yes I actually did "hear" it). The basic idea of the book is to give the reader a set of guideposts to learn how to embrace the idea that perfection is not possible or even ideal, and that we should be looking to embrace our true selves instead of being ashamed of our mistakes and shortcomings. This is something I truly need in my life, as I am guilty of trying to please everyone and being extremely hard on myself in just about every scenario one can dream up. However, I just found the book relatively dry and it didn't do much to enhance my life or my attitude about myself.
Part of the issue, I think, was that I listened to the audio, and it may have been a combination of not loving the narrator and needing to actually see the words on the page, but I don't think I absorbed much of the guidance Brown was trying to provide here.
Ultimately I'm still interested in reading more from Brene Brown, as I think there were some nuggets of truth within the book, and a few things that I will take away, but unfortunately this one just didn't work for me.