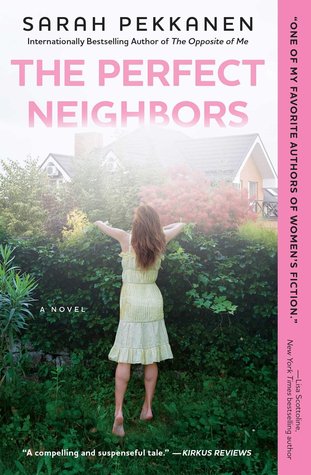 The Perfect Neighbors by Sarah Pekkanen
Published by Washington Square Press
Review copy provided by Netgalley
From the publisher:
Bucolic Newport Cove, where spontaneous block parties occur on balmy nights and all of the streets are named for flowers, is proud of its distinction of being named one the top twenty safest neighborhoods in the US.
It's also one of the most secret-filled.
Kellie Scott has just returned to work after a decade of being a stay-at-home mom. She's adjusting to high heels, scrambling to cook dinner for her family after a day at the office—and soaking in the dangerous attention of a very handsome, very married male colleague. Kellie's neighbor Susan Barrett begins every day with fresh resolutions: she won't eat any carbs. She'll go to bed at a reasonable hour. And she'll stop stalking her ex-husband and his new girlfriend. Gigi Kennedy seems to have it all together—except her teenage daughter has turned into a hostile stranger and her husband is running for Congress, which means her old skeletons are in danger of being brought into the light.
Then a new family moves to this quiet, tree-lined cul-de-sac. Tessa Campbell seems friendly enough to the other mothers, if a bit reserved. Then the neighbors notice that no one is ever invited to Tessa's house. And soon, it becomes clear Tessa is hiding the biggest secret of all.
The Perfect Neighbors was a fairly run-of-the-mill women's fiction story about a bunch of women with secrets. To be honest, it felt very formulaic, like I've read this same story before, but with different character names and slightly different secrets. However, I did enjoy it and it certainly held my interest. I liked all of the women and was interested in figuring out how their lives would turn out, how these issues presented would end up resolving themselves.
I enjoyed the time I spent with this novel but in the end, I'm finding it somewhat forgettable which isn't the greatest thing. I will keep this short and just say, pick it up if you like this kind of thing, otherwise it's probably okay to give it a pass. It was a fun, quick read for me that won't stick in my brain much longer.