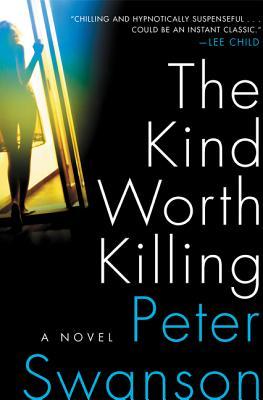 The Kind Worth Killing by Peter Swanson
Published by William Morrow
From the publisher:
On a night flight from London to Boston, Ted Severson meets the mysterious Lily Kintner. Sharing one too many martinis, the strangers begin to play a game of truth, revealing intimate details about themselves. Ted talks about his marriage and his wife Miranda, who he's sure is cheating on him. But their game turns dark when Ted jokes that he could kill Miranda for what she's done. Lily, without missing a beat, says calmly, "I'd like to help."
From there, Ted and Lily's twisted bond grows stronger as they plot Miranda's demise, but soon these co-conspirators are embroiled in a game of cat-and-mouse–one they both cannot survive–with a shrewd and very determined detective on their tail.
You know how every thriller these days is advertised as the next Gone Girl or Girl on a Train? And how annoying that is? Well – I'm about to annoy you, because The Kind Worth Killing reminded me so much of both of those books, but only in the best possible way. I'm actually surprised it didn't get more attention, because this book was SO GOOD.
Right from the start of the book, it's clear that things here are not exactly as they seem. On the surface, sure – guy meets girl, guy wants to kill his wife, girl agrees to help – sounds simple and uncomplicated, right? (ha!!) Wrong. So much is happening in this book, so many twists and turns that I did not see coming. It's a hell of a ride.
I'll be honest and say that for a second there, I thought the book was going to go into a direction I was NOT a fan of – but it didn't! Even crazier shit happened than what I had been anticipating. There are connections between people that I did not see coming, characters going rogue in ways I could not have imagined, just crazy stuff all over the place. Honestly – I just could not put this thing down. It was so incredibly captivating.
If you're looking for a great thriller, look no further than The Kind Worth Killing. I was so hooked on this thing from page one. Read it!