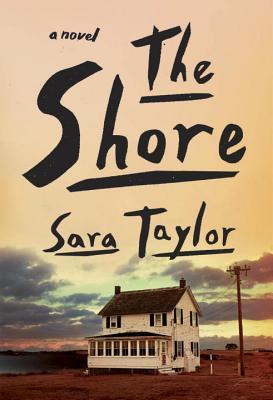 The Shore by Sara Taylor
Published by Hogarth
From the publisher:
Welcome to The Shore: a collection of small islands sticking out from the coast of Virginia into the Atlantic Ocean. Where clumps of evergreens meet wild ponies, oyster-shell roads, tumble-down houses, unwanted pregnancies, murder, storm-making and dark magic in the marshes. . .
Situated off the coast of Virginia's Chesapeake Bay, the group of islands known as the Shore has been home to generations of fierce and resilient women. Sanctuary to some but nightmare to others, it's a place they've inhabited, fled, and returned to for hundreds of years. From a half-Shawnee Indian's bold choice to flee an abusive home only to find herself with a man who will one day try to kill her to a brave young girl's determination to protect her younger sister as methamphetamine ravages their family, to a lesson in summoning storm clouds to help end a drought, these women struggle against domestic violence, savage wilderness, and the corrosive effects of poverty and addiction to secure a sense of well-being for themselves and for those they love.
Together their stories form a deeply affecting legacy of two barrier island families, illuminating 150 years of their many freedoms and constraints, heartbreaks, and pleasures. Conjuring a wisdom and beauty all its own, The Shore is a richly unique, stunning novel that will resonate with readers long after turning its final pages, establishing Sara Taylor as a promising new voice in fiction.
This is one of those books that I expected to love and thought it was just okay to good. Reasons I expected to love it: everyone else has (duh), interconnected short stories, beautiful writing. Those three things are true, and they were the reasons I didn't dislike it, but The Shore didn't wow me like I had expected it would.
The stories here are mostly quiet. The characters are mostly sad, a bit desperate, the town they live in gradually goes to shit over the years and the inhabitants suffer because of that. There is a lot of poverty, abuse, and heartache in these stories and honestly I felt depressed while reading the book. I kept hoping for someone in these stories to have a happy life, to grow up and get the hell out of this crumbling town and soul-crushing life that most of these people led, and with few exceptions that didn't happen.
The last three stories in the book were my favorite and redeemed the book for me – definitely taking it from a solid two-star read to a three-star one. I loved how Taylor brought the first story back full-circle and completed that particular character's story arc. I really needed to read that after having my heart broken with that character's situation in the first story. And I found it incredibly interesting and exciting how the story jumps forward to a post-apocalyptic future in two of the final stories.
Overall, I liked the book but it wasn't as great as I was hoping it would be. I am a fan of this author's writing, though, and would definitely be open to picking up books or stories she writes in the future.