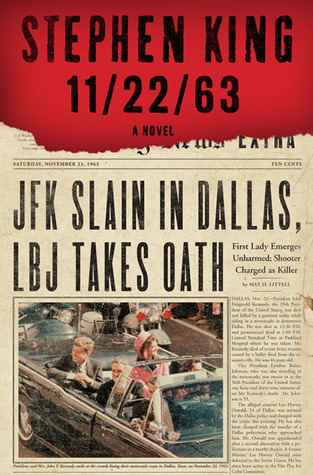 11/22/63 by Stephen King
Published by Scribner
From the publisher:
Life can turn on a dime—or stumble into the extraordinary, as it does for Jake Epping, a high school English teacher in Lisbon Falls, Maine. While grading essays by his GED students, Jake reads a gruesome, enthralling piece penned by janitor Harry Dunning: fifty years ago, Harry somehow survived his father's sledgehammer slaughter of his entire family. Jake is blown away…but an even more bizarre secret comes to light when Jake's friend Al, owner of the local diner, enlists Jake to take over the mission that has become his obsession—to prevent the Kennedy assassination. How? By stepping through a portal in the diner's storeroom, and into the era of Ike and Elvis, of big American cars, sock hops, and cigarette smoke… Finding himself in warmhearted Jodie, Texas, Jake begins a new life. But all turns in the road lead to a troubled loner named Lee Harvey Oswald. The course of history is about to be rewritten…and become heart-stoppingly suspenseful.
I continue to be shocked at myself by the fact that I hadn't read a book by Stephen King until I was over the age of thirty. WHAT the hell had I been waiting for all this time? And while this is only my third experience with King, I'm still in awe of his incredible talent as a writer as well as the variety of his work – the three books of his I've read at this point have each been so different from one another, yet each contain elements of a signature style that I'm beginning to recognize as uniquely King.
But let's talk about 11/22/63, shall we? I'll start with the obvious: the length of this thing overwhelmed me for quite some time, which is why it's been on my TBR for years. It intimidated me as I began reading it, too, because it did take me a good fifty or so pages to really be into the story and wanting to know what happens next. BUT once it gets going, it is really going. And I quickly forgot about the fact that the book was more than 800 pages as I immersed myself in the story, in this world, and got to know and care about these characters.
There's a lot going on in this sprawling, mind-bending journey of a novel, and I loved just about every minute of the journey. To talk much about plot would ruin some key points that I believe would be spoilery, but let's just say that even though there is a LOT of plot, and also a lot of not too terribly much happening, the book never for one second felt too long for me. There's a lot of preparation for things that will happen, a lot of nervous anticipation that said things might not (will probably not) go as planned, but all that build-up is quite worth the several major BOOMs throughout the book. One thing that made the length of the book more of a positive than a negative was the depth of character development King was able to do within those eight hundred pages. I truly got to know and understand Jake – his motivations, his hopes, dreams, plans for the future, his biggest fears – everything about him. The minor characters were less interesting, mostly because I think everything and everyone was supposed to pale in comparison to what Jake was trying to accomplish, but I enjoyed getting to know them even so.
I've heard some readers complaining about the love story, saying it wasn't necessary to the plot, but I have to disagree. If anything, I feel it enhanced the plot because it gave Jake an additional sense of urgency to do what he came to do. Also, it added another element of suspense to the story, as there were several times where his journey and goals were thwarted because of his relationship. There were moments when it seemed like he might give up the entire goal of why he came there simply because he found love instead. I liked that aspect of the book quite a bit.
11/22/63 was so much fun and I'm incredibly glad I finally picked it up. I really, truly understand why Stephen King has so many die-hard fans. If you're one of them – which Stephen King should I pick up next? Which of his novels is your absolute favorite?