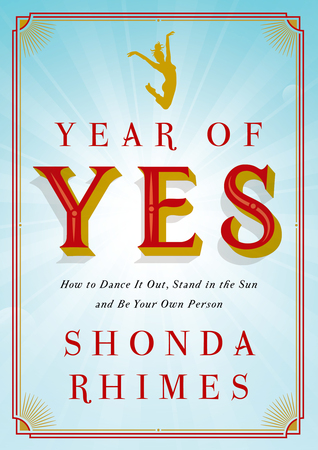 Year of Yes: How to Dance It Out, Stand In the Sun, and Be Your Own Person by Shonda Rimes
Published by Simon & Schuster
From the publisher:
The mega-talented creator of Grey's Anatomy and Scandal and executive producer of How to Get Away With Murder chronicles how saying YES for one year changed her life―and how it can change yours, too.
With three hit shows on television and three children at home, the uber-talented Shonda Rhimes had lots of good reasons to say NO when an unexpected invitation arrived. Hollywood party? No. Speaking engagement? No. Media appearances? No.
And there was the side-benefit of saying No for an introvert like Shonda: nothing new to fear.
Then Shonda's sister laid down a challenge: just for one year, try to say YES to the unexpected invitations that come your way. Shonda reluctantly agreed―and the result was nothing short of transformative. In Year of Yes, Shonda Rhimes chronicles the powerful impact saying yes had on every aspect of her life―and how we can all change our lives with one little word. Yes.
I loved this book. I loved it and cherished it and marveled at it the way that I did with Lean In and Tiny Beautiful Things – two books that inspired me and caused me to look at myself differently, to question if the way I was doing things and living my life was the BEST way, the most authentic way. That's how I feel about Year of Yes – like a changed, more inspired, challenged person.
Shonda Rimes did something so brave, and that is that she challenged herself to say yes to every single thing that scared her in one year. If I did that … I can't even fathom that. I am scared of a lot of things. So to say that her journey was inspiring to me is a huge understatement. I can't even begin to go into detail about all the things that she did, but broadly speaking – she gave speeches, did a lot more publicity than she had ever done before, became more confident as a leader, eliminated friendships with toxic people, made a huge decision about her personal life, oh and also lost over 100 pounds and embarked on a completely new healthy lifestyle. The weight loss is SO not the point of the book, just one of many things that she said yes to, but it becomes a physical manifestation, a metaphor if you will, for all the other amazingly positive things that happened in Rimes' life because of saying yes.
To get into how much I gleaned from the book personally would be too much to share here. Let's just say that Shonda gave me a LOT to think about. A lot a lot a lot. I've been doing tons of thinking since the first chapter of the book, and I just finished it today, and let's just say I'll continue to do a lot of thinking for a long time. And doing. I want to do some doing, too.
I am a huge fan of Shondaland shows. I've watched Grey's Anatomy, Scandal, and How to Get Away With Murder from the beginning of each show. But I don't think you need to be a fan of Shonda's shows, or even understand what she's all about as a TV writer, to appreciate the book. I think a book this inspiring has the power to positively influence just about anyone to make some kind of positive change. I just had to put that out there in case you're saying – but I don't watch her shows, there won't be anything here for me. Not true.
However. If you ARE a fan of Shonda's shows, you will love this book that much more. The book is written how the characters on her show talk – the essence of Shonda Rimes just pours out of the page (and poured right into my heart and mind). It is a fantastic experience. And I listened to the audio, which she narrates herself. SO SO GOOD. I definitely recommend that choice if you're an audio person.
So very very highly recommended. I wanted to hug the book when I was done with it. And find Shonda and hug her, too. And become her best friend. Love love love.