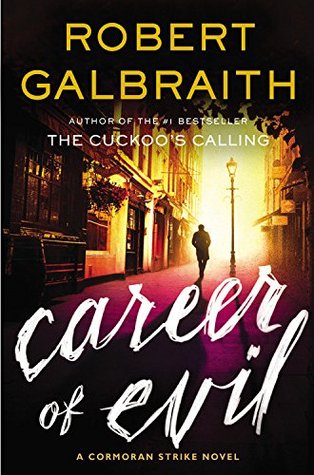 Career of Evil by Robert Galbraith
Published by Mulholland Books
From the publisher:
When a mysterious package is delivered to Robin Ellacott, she is horrified to discover that it contains a woman's severed leg.
Her boss, private detective Cormoran Strike, is less surprised but no less alarmed. There are four people from his past who he thinks could be responsible – and Strike knows that any one of them is capable of sustained and unspeakable brutality.
With the police focusing on the one suspect Strike is increasingly sure is not the perpetrator, he and Robin take matters into their own hands, and delve into the dark and twisted worlds of the other three men. But as more horrendous acts occur, time is running out for the two of them…
Career of Evil is the third in the series featuring private detective Cormoran Strike and his assistant Robin Ellacott. A mystery and also a story of a man and a woman at a crossroads in their personal and professional lives.
I just love this series so damn much. And it's entirely possible that this is my favorite installment in the series so far. Cormoran is the best kind of main character – a guy who is faaaaaaar from perfect, makes a million mistakes, but is so REAL you just have to love the guy.
Since I don't read a lot of mysteries, I'm not sure how this series measures up to the best of the best in the genre, but I for one loved how this particular mystery was laid out. There are three clear suspects – in fact, Strike names each of them very close to the beginning of the book – and it's up to Strike and Robin to figure out which of the three of them is the culprit. I was convinced at various points throughout the book of the guilt of each of them, so for me, Galbraith/Rowling did an excellent job keeping me guessing throughout the book. There's a point where the reader can figure out who it is, but even at that point there's some murkiness as far as it possibly being one of two people. For me, the mystery aspect of the book was my favorite mystery of the three books in the series so far.
I don't just love the mystery part of this series, though. In addition to loving Strike, I loooooove Robin. LOVE HER. Obviously I hate her fiance, as the author clearly wants me to do, and I've been rooting for her throughout this series to dump his ass and move on to her own independence. In regards to the detective agency, Robin continues to contribute more and more to each investigation as the books go on, and she played an extremely crucial role in solving the mystery in this book, which I was super pleased to see. It is so adorable to me to watch the relationship between she and Strike as they move from being colleagues to friends to … maybe more? I am so looking forward to the next book to find out if that is the case.
For anyone who hasn't tried this fantastic series by an author who we all by know is actually J.K. Rowling, please do. She is an incredibly talented author who has proven she can write more than a fantasy series for kids. I love this series and cannot wait for the next one.