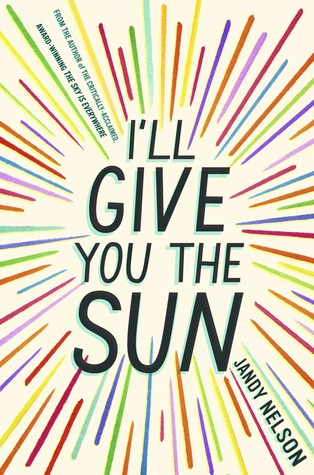 I'll Give You the Sun by Jandy Nelson
Published by Dial Books
Thirteen-year-old twins Jude and Noah are best friends and couldn't be closer. Jude is a free spirit who is always up for an adventure, while her brother Noah is more quiet and artistic, but their differences only serve to draw them closer. Three years later, at sixteen, the two are barely speaking after an earth-shattering event changed everything. Told in alternating perspectives and time periods, Noah and Jude reveal to the reader and themselves how and why this occurred, and how they find their way back to each other.
I really loved this book! There is SO much to talk about here, but I'll be brief because my best recommendation is just – please read this! There are many relationships explored within the book – between the twins, between each one and each parent individually, between each one and their love interests – and the way Nelson is able to get at the heart and emotion of each of these individual relationships is fantastic. There is some pretty serious trauma, too – I won't give anything away but Noah and Jude have difficult things happen to them throughout the book – but it was not heavy-handed. It just felt real – I felt the emotions of these characters so deeply, by the end of the book I felt like I knew them, like I had experienced these events with them. Also, I'm really not into art but the way that Nelson used art as a centerpiece of the novel was SO well done. I loved this book to pieces, please read it.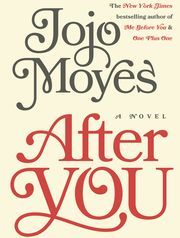 After You by Jojo Moyes
Published by Penguin
Louisa Clark is attempting to recover from the death of her beloved, Will Traynor, but isn't having much success. After a traumatic accident forces her to move back home, she feels like she's right back where she started – still not recovering at all from Will's death. She meets and begins falling for a paramedic, Sam Fielding, and at the same time is approached by someone from Will's past who really needs her help. These new people in her life start giving her the push she needs to truly grieve for Will in a way that may actually begin the healing process.
Like most people, I fell in love with Louisa and Will's love story and their characters in Moyes' Me Before You, so of course I was thrilled to learn that she wrote a sequel. I definitely liked the book but can't say that I loved it as much as the first. I did feel like Louisa kind of went back to the person she was before she met Will – someone passive, who couldn't own her life or make decisions of any kind, someone who just let things happen to her instead of creating what she wanted in her own life. It was disappointing but also realistic in a way because she just couldn't get her bearings after he died. I did enjoy the added aspect of the person from Will's past (I won't spoil it if you haven't heard yet who this person is) but it also felt a tiny bit contrived to me – like Moyes had to throw this person in so the book would have some substance to it. Honestly I think because I expect SO much of Moyes, and was so looking forward to this book, it was a bit of a disappointment. That being said, I've loved everything else I've read by Moyes and I can definitely see what's to love about After You. Just don't expect it to be this perfect, incredible continuation of Me Before You and you'll probably have a great reading experience.