Fables: The Deluxe Edition, Book One by Bill Willingham
Published by Vertigo
All of the legends of folklore and fairy tales have been exiled to modern-day New York City, where they live among regular people, but have created their own secret society. This first story focuses on Snow White and her sister, Rose Red, who has gone missing. It's up to Bigby, the sheriff and recovering Big Bad Wolf, to find the culprit and hopefully find Rose Red herself.
Okay, I'm just going to come out and say that reading Fables cemented something in my head that I've sort of been feeling for a while now: I don't enjoy fairy tale re-tellings. I can't think of one example of a fairy tale re-telling that I have enjoyed. While I appreciated the art in here, and liked the story arc, it was just not my thing. I won't be continuing with this series. It's not you, Fables, it's me.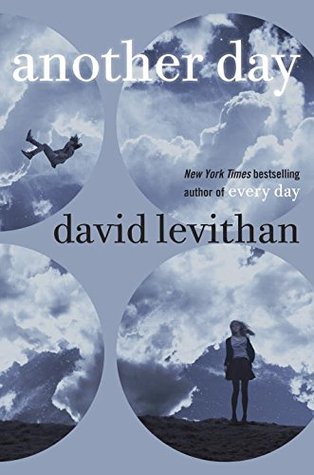 Another Day by David Levithan
Published by Alfred A. Knopf Books for Young Readers
Rhiannon has a so-so, mostly boring relationship with her boyfriend Justin, and she's accepted that's just the way it'll always be. But one day, one perfect day, Justin shows her a side of himself she's never seen before – he's sweet, super into her, and they share a connection unlike they ever have in the past. The next day, Justin doesn't remember their day at all. Rhiannon is crushed, disappointed, and so sad until she meets a stranger who tells her that for that one perfect day, she wasn't actually with Justin at all.
This companion to Levithan's One Day is basically that exact story told from Rhiannon's point of view instead of A's. I absolutely loved the first book and found it incredibly creative and compelling. I liked this companion novel, and it was definitely interesting to see things from Rhiannon's perspective, to get inside her head and see how she really felt about this whole A thing. But honestly, I'm not sure that this book added much to the overall story. It was pretty much the exact same story told another way. I would have liked to see a simplified version of this story with a lot more after, more of a continuation of the first book. I liked it but definitely can say I wanted more from it.
Sisters of Treason by Elizabeth Fremantle
Published by Michael Joseph, Penguin Books
Sisters Katherine and Mary Grey are devastated and terrified after Queen Mary orders the execution of their sister and her cousin, Lady Jane Grey. But the two sisters must find their own places at court if they are to survive and thrive under the aging and paranoid Queen. Mary, born with a physical deformity and the short stature of a child, becomes the Queen's confidante, and beautiful Katherine is one of the queen's maids, but her beauty may cause problems as she entangles herself with one romantic prospect after another. The two sisters find themselves in the middle of suspicion and potential danger, as their royal blood, with this queen in particular, keeps them far from ever being safe.
This is the second volume in Fremantle's Tudor trilogy. Having enjoyed the first I was excited to dive into this one and I was not disappointed. Fremantle is the perfect historical fiction writer for me. Her books are detailed enough to be believable and rooted in fact, yet there's enough exploration of the characters and their motives and all the drama to make me continuously want to turn pages. This book is a perfect balance between the fluffy dramatics of the time and the seriousness of what was actually going on – beheadings everywhere you look, betrayals, no one trusts anyone, everyone is power-hungry and will stop at nothing to advance their family's interests, etc. Mary and Katherine are both sympathetic characters and I like that they are people slightly obscure in terms of being highlighted in history books. I have to say that I liked Katherine's sections slightly more than Mary's – I guess they were just a bit juicier – but I loved both characters and was captivated by their stories. I'll definitely be reading the third book in this trilogy and can highly recommend Fremantle as an author!