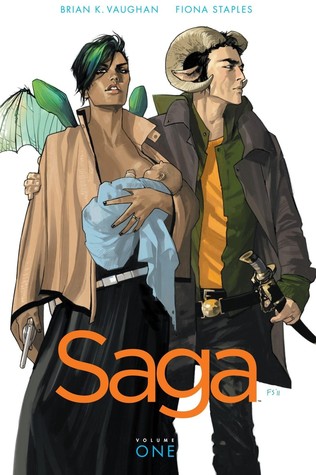 Saga, Volume 1 by Brian K. Vaughan
Published by Image Comics
Publisher's summary: When two soldiers from opposite sides of a never-ending galactic war fall in love, they risk everything to bring a fragile new life into a dangerous old universe.
I chose to read Saga because I have been wanting to try more comics and everyone raves about this one, so I thought it would be a good choice. I really loved it! I loved the angle of these star-crossed lovers – individuals from two different intergalactic species that happen to be at war who fall in love, have a child together, and have to try to make it despite the universe telling them they cannot be together. There is war, drama, love, ghosts – you name it, Saga has got it. And the illustrations are absolutely beautiful and SO creative. I am by no means an expert on comics but I found this one truly excellent and am looking forward to reading the rest.
Mambo in Chinatown by Jean Kwok
Published by Riverhead Books
Charlie Wong has spent almost no time throughout her twenty-two years of life outside of Chinatown, where she lives with her father and younger sister. Her job as a dishwasher makes her miserable, so when she lands a new job as a receptionist at a dance studio, she's thrilled. As Charlie gets to know this new world of dance, her own talents begin to rise to the surface and her life quickly changes into something she had never dreamed for herself. At the same time, however, her sister is having trouble in school and seems to become almost chronically ill. Charlie has to figure out how to grow into her new identity in the American world while at the same time figuring out how to get her firmly Eastern world-minded father to help her sister.
Jean Kwok has a talent for bringing to life the experiences of people I don't read much about – in her first novel, she detailed the life of Chinese immigrants, and in this one it's all about American-born Chinese – those who were born here in America, but have lived their lives immersed in Chinese culture. I really enjoyed this novel and felt SO deeply for Charlie. She is the kind of character the reader connects to immediately and roots for throughout the novel. I read so anxiously and hopefully as Charlie discovered this new world, as she learned that she has true talent for something other than washing dishes, and as she stood up to her father and her uncle in regards to her sister's care. I was proud of her, even! Kwok really showed the reader how difficult a balance children of immigrants must strike between their parents' ways of thinking and living and the ways of the culture they've been immersed in here in the US. Mambo in Chinatown is a fantastic story with a lot to think about, a ton of heart, and great characters. Highly recommended.
Why Not Me? By Mindy Kaling
Published by Crown Archetype
Mindy Kaling's second collection of essays invites readers to see inside her brain as she talks about career, her quest to find happiness and excitement in life, falling in love, and looking different from just about every other person in Hollywood.
I'm a huge Mindy Kaling fan and I really enjoyed these essays. Kaling is smart, witty, extremely funny, and really has an eye for what's going on in society. She pokes fun at people and ideas without being hurtful, while at the same time shows readers how tough it can be to be yourself in a world that wants you to be the same as everyone else. She is just great, I enjoy her tremendously, and if you like her humor you should definitely read both of her books.