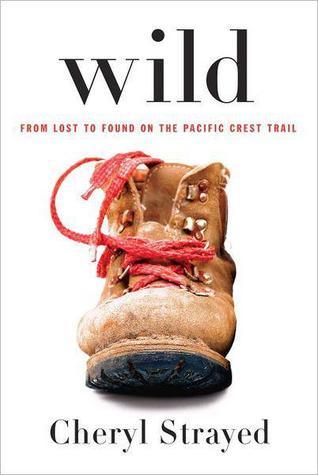 Wild: From Lost to Found on the Pacific Crest Trail by Cheryl Strayed
Published by Knopf
If you aren't familiar with the gist of this memoir you must have been living under a rock. But just in case, basically after Strayed's mother died and her marriage fell apart, she decided to hike a thousand miles, by herself, along the Pacific Crest Trail. This is her story of that time in her life, just before and after, and how this journey helped her come to terms with some of the most difficult things she'd experienced in her life.
What can I say about Wild that hasn't been said before? Probably nothing, to be honest. I love Cheryl Strayed and I thought this book was just as good, in a different way, as Tiny Beautiful Things. I've come to understand Strayed as such an intense, thoughtful, introspective person and I loved getting to know her even more, understanding more about her history and her life growing up, and it just makes me admire her for the unfailingly positive and inspiring adult she has become. I just think she is an incredible writer and an incredible human and I loved every minute I spent reading her book. There were moments in this book that I laughed out loud, moments that I cried the ugly cry (one in particular, involving an animal, just, UGH), and the variety of emotions I felt while reading this book is how I know what a fantastic, amazing book it really was. I loved it so much.
Elena Vanishing by Elena Dunkle and Claire B. Dunkle
Published by Chronicle Books
This is the memoir of Elena Dunkle, a young woman who, as a teen and young adult, suffered from anorexia. This is her story, as told by her, from her point of view as a seventeen-year-old through when she began her recovery five years later. Her mother, author Claire B. Dunkle, co-wrote the book with her.
This one was pretty heartbreaking, and not an easy book to read. It's hard to understand an eating disorder if you do not suffer from one yourself, but if you want to understand the mentality of someone with an eating disorder, this is a great book to read. Elena Dunkle brings the reader right inside her brain as she experiences life from the perspective of a person who literally hates herself, can't handle the body she's in, and feels an intense drive, a compulsion even, to destroy herself by starvation. To say this is an intense read is an understatement. But it's also beautiful at times, and in the end it's clear that recovery is on the horizon for her. If you know someone suffering from an eating disorder I think this would really help understand just a tiny bit what that person might be going through, and for that I'd highly recommend it.
A Thousand Miles to Freedom: My Escape from North Korea by Eunsun Kim and Sebastian Falletti, translated by David Tian
Published by St. Martin's Press
Eunsun Kim grew up in North Korea, and had a relatively peaceful and happy childhood until about age eleven, when her family members started dying of starvation due to the famine the country was experiencing. Desperate to feed her family and find freedom, Kim's mother decided to escape to China with Kim and her older sister. This is her incredible story of the nine years it took she and her mother and sister to get out of North Korea for good, and into the safety of South Korea. She's now built a life there and is able to tell her story with the comfort of knowing that she'll never have to set foot in North Korea again.
I'm having a difficult time with this book because I think these stories are incredibly important and I love seeing more of them – stories from those who we almost never hear from. The government of North Korea goes to insanely extreme measures to make sure its citizens are not heard from or seen by the outside world, so it's amazing and great to me when the world gets to hear from someone who escaped the totalitarian regime and lived to talk about it. But in this particular case, the book wasn't written very well and could possibly turn people off of reading books like it. But Eunsun Kim's story is inspiring and shocking and one of those stories that NEEDS to be told, and heard by the world. So while I wasn't in love with the actual writing of the book, I still recommend that it gets read – people need to be aware of the atrocities happening in North Korea.