Into the Forest by Jean Heglund
Published by Dial Press
This novel is about two teenage sisters, Nell and Eva, who are struggling to survive in their Northern California home as the world quietly collapses around them. They are 30 miles from the nearest town so as an overseas war and issues in the US government cause massive issues in society, they don't notice much difference until suddenly their electricity goes out and there's no gas to be found. As they rely on one another for everything, their bond is tested time and time again, and they both must figure out how to grow into women in this new world they are facing.
I liked the first third of this book a lot. I found it fascinating, and horrifyingly believable, how the world as these characters knew it slowly disintegrated without their really noticing it. I loved getting to know the two of them and how each played a different role in their family structure. But as the book went on, one sister just read all the time and the other danced all the time – it almost got boring to me. And there's a point in the book where something happens between the two of them that I thought was completely unnecessary and actually took away from what I did like about the book. At that point, I kind of hated it. So, not a personal recommendation but I do like some of the ideas presented here and I'd be open to picking up another book by this author.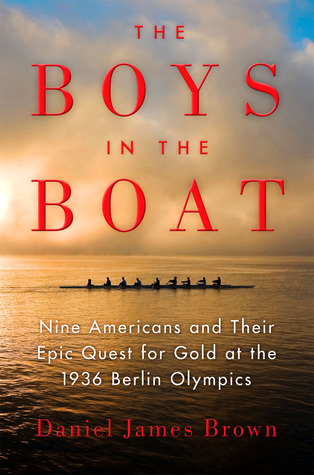 The Boys in the Boat: Nine Americans and Their Epic Quest for Gold at the 1936 Berlin Olympics by Daniel James Brown
Published by Viking
This is the story of the University of Washington's crew team and their fight to win gold at the 1936 Berlin Olympics. Daniel James Brown traces the history of Nazi Germany leading up to and just past 1936 alongside the story of how this incredible crew team was put together, including helping the reader get to know each of the eight men on the team as well as their coaches.
I really REALLY liked this one! I was impressed with how the author managed to tell such a compelling story about this sport that I knew nothing about beforehand – and frankly didn't care about beforehand. I loved getting to know these men, their back stories and childhoods and learning what made them tick, what made them successful, and most importantly, why these specific eight men, as a team, had to be the guys in this Olympic-caliber boat. It was fascinating to me how this sport is such an incredible illustration of teamwork, how a crew team is more about the team itself than its individual members. Further, this was an incredibly fascinating look at Nazi Germany just before Hitler began showing the world his true colors. I don't think I've read a book before that illustrates the build-up to World War Two from this angle and it was so interesting to me, I need to find more books that do this. The Boys in the Boat is super great and I think it's an easy recommendation to make to almost anyone.