To say I am woefully behind on sharing with you what I've been reading is the understatement of the year. Here it is, November, and I haven't told you anything about the last three books I read in AUGUST. I'm going to work on remedying that in the next few weeks, as I bombard you all with a bunch of mini-reviews. Here's my thoughts on the final three books I read in August.
The People in the Trees by Hanya Yanagihara
Published by Doubleday
From the publisher:
In 1950, a young doctor called Norton Perina signs on with the anthropologist Paul Tallent for an expedition to the remote Micronesian island of Ivu'ivu in search of a rumored lost tribe. They succeed, finding not only that tribe but also a group of forest dwellers they dub "The Dreamers," who turn out to be fantastically long-lived but progressively more senile. Perina suspects the source of their longevity is a hard-to-find turtle; unable to resist the possibility of eternal life, he kills one and smuggles some meat back to the States. He scientifically proves his thesis, earning worldwide fame and the Nobel Prize, but he soon discovers that its miraculous property comes at a terrible price. As things quickly spiral out of his control, his own demons take hold, with devastating personal consequences.
THIS BOOK IS SO GOOD. That's all.
Kidding, that's not all, but really it's so darn fantastic, I loved it. There are not one, but TWO unreliable narrators, which is something I happen to love. So many awful things happen in this book – kidnapping and exploitation of native peoples, destruction of their homes and land, intense sexism that made me want to throw this sexist asshole (Norton Perina) off a cliff, and the worst thing in here is one I don't even want to say because I think it's a spoiler. But this is a book that is saying something, Yanagihara is the kind of writer I just adore, and all the awful things added up to an incredible book that I truly could not put down. It's been quite some time since I read this one, but I am still thinking about it. LOVED.
He's Gone by Deb Caletti
Published by Bantam
From the publisher:
The Sunday morning starts like any other, aside from the slight hangover. Dani Keller wakes up on her Seattle houseboat, a headache building behind her eyes from the wine she drank at a party the night before. But on this particular Sunday morning, she's surprised to see that her husband, Ian, is not home. As the hours pass, Dani fills her day with small things. But still, Ian does not return. Irritation shifts to worry, worry slides almost imperceptibly into panic. And then, like a relentless blackness, the terrible realization hits Dani: He's gone.
As the police work methodically through all the logical explanations—he's hurt, he's run off, he's been killed—Dani searches frantically for a clue as to whether Ian is in fact dead or alive. And, slowly, she unpacks their relationship, holding each moment up to the light: from its intense, adulterous beginning, to the grandeur of their new love, to the difficulties of forever. She examines all the sins she can—and cannot—remember. As the days pass, Dani will plumb the depths of her conscience, turning over and revealing the darkest of her secrets in order to discover the hard truth—about herself, her husband, and their lives together.
I thought I was going to like this one a lot more than I did. What I enjoyed was the deep, introspective look into the marriage between Dani and Ian. What I didn't enjoy was pretty much everything else. I found Dani somewhat annoying, I thought the book kind of dragged, and I just couldn't care quite enough about Ian to hope he was alive. Is that awful? Part of the issue might have been that I listened to the audio, and it took me forever, so I think I just wanted the story to be over. In the end, I finished it so I can't say it was terrible, but maybe okayish is where I fall on He's Gone.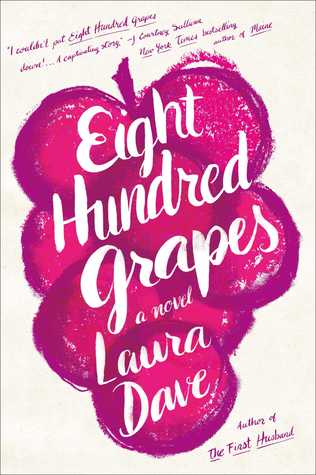 Eight Hundred Grapes by Laura Dave
Published by Simon & Schuster
Review copy provided by the publisher
From the publisher:
There are secrets you share, and secrets you hide…
Growing up on her family's Sonoma vineyard, Georgia Ford learned some important secrets. The secret number of grapes it takes to make a bottle of wine: eight hundred. The secret ingredient in her mother's lasagna: chocolate. The secret behind ending a fight: hold hands.
But just a week before her wedding, thirty-year-old Georgia discovers her beloved fiancé has been keeping a secret so explosive, it will change their lives forever.
Georgia does what she's always done: she returns to the family vineyard, expecting the comfort of her long-married parents, and her brothers, and everything familiar. But it turns out her fiancé is not the only one who's been keeping secrets…
I was expecting to love this one because, well, because wine, duh. I did enjoy it but not as much as the first of Laura Dave's novels I read (The First Husband). I tend to appreciate books about a thirtyish woman dealing with something awful and fleeing home to cope, because I know that if something rocked my world in a bad way, I'd fly to Chicago immediately and seek comfort from my mom. So I am totally buying what Dave is selling here. Generally, I enjoyed the family dynamics at play here and Dave did a nice job keeping the people and relationships complex and staying away from stereotypes. I liked the characters and the story worked good. It was a nice read, not the best ever, but good enough and I definitely enjoyed my time spent with the book.