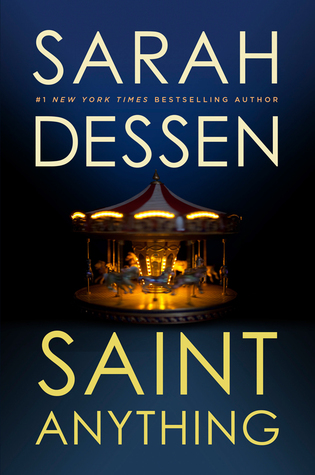 Saint Anything by Sarah Dessen
Published by Viking Juvenile
Sydney has always played second fiddle to her smarter and more charming older brother, Peyton. Although Peyton has always received more attention and time from their parents, his continued reckless behavior eventually lands him in jail after a drunk driving episode leaves another teen paralyzed. While Sydney's parents continue to focus exclusively on Peyton and what he needs while in jail, she's left attempting to figure out her place in her family and the world. It's at this point where she meets the Chatham family, owners of a local pizza place, who are a rambunctious and loving group who would go to the ends of the earth for one another. Layla Chatham becomes Sydney's closest friend and Mac Chatham, Layla's older brother, becomes a guy Sydney can't stop thinking about. In this family Sydney discovers people who accept her for who she is, pull her right into the fabric of their lives, and she can't help but wonder, and hope, that this kind of love and loyalty is possible within her own family, too.
I haven't been appreciating much YA lately, but Dessen is a favorite author of mine, so I was hopeful that her newest novel would be different. And I was right, of course, Dessen really just gets it where teens are concerned, and I always find something to love about her books, Saint Anything being no exception.
Sydney was a character I felt for immediately. She was almost ignored in her own family – her parents were SO concerned with her brother, even when he was doing some awful things, and neither of them paid much attention to her. I often find myself annoyed at the parents in YA books, but this was a little over the top. They seemed to have zero regard for her feelings in almost every situation. Their behavior made it so clear why Sydney would cling to another family, the Chathams, like she did. And wow did I LOVE the Chathams. This family had so much energy, spunk, fun and most of all love, all wrapped up in sarcastic comments and witty conversations. It was the perfect place for Sydney's confused mind and aching heart to land.
I loved how much of Saint Anything was focused on friendship, specifically the friendship that Sydney and Layla developed. They formed a quick bond but it was intense, and Layla showed Sydney the kind of love and loyalty that even her own parents weren't capable of showing her. So much so that when Sydney began developing feelings for Mac, she went to great lengths to push those feelings away in fear of upsetting Layla. I loved how Dessen showed Sydney drifting away from her old friends naturally, not through the fault of anyone, and coming closer to people who were better able to understand what she was going through with her brother and parents. Because that happens to kids, teens, even adults – our friendships can and do change over the years, and that's okay. It's normal.
The romance between Sydney and Mac wasn't necessary to the story, but I have to admit that I did like it. What I liked is that it progressed very naturally and slowly from a genuine friendship to mutual feelings of "I see that you understand me, therefore I want more of this, I like you". They just got each other, in a way that not many others did, so it was sweet to read. But as I said, it wasn't entirely necessary, and I think Sydney got some of that same understanding from other members of the Chatham family (the mom, I loved the mom!), so the book would have been just fine without the romance. But what's a Sarah Dessen novel without a romance? So I get why it was there.
Anyway, I really liked Saint Anything! Sarah Dessen never disappoints me. If you enjoy contemporary YA this would be a great choice.