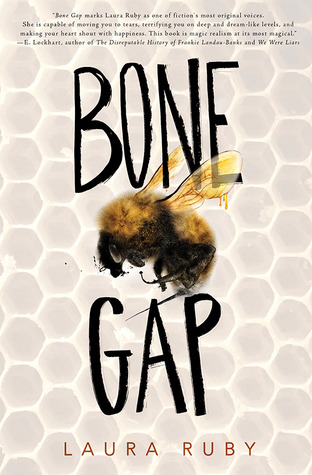 Bone Gap by Laura Ruby
Published by Balzar & Bray
From the publisher:
Everyone knows Bone Gap is full of gaps—gaps to trip you up, gaps to slide through so you can disappear forever. So when young, beautiful Roza went missing, the people of Bone Gap weren't surprised. After all, it wasn't the first time that someone had slipped away and left Finn and Sean O'Sullivan on their own. Just a few years before, their mother had high-tailed it to Oregon for a brand new guy, a brand new life. That's just how things go, the people said. Who are you going to blame?
Finn knows that's not what happened with Roza. He knows she was kidnapped, ripped from the cornfields by a dangerous man whose face he cannot remember. But the searches turned up nothing, and no one believes him anymore. Not even Sean, who has more reason to find Roza than anyone, and every reason to blame Finn for letting her go.
As we follow the stories of Finn, Roza, and the people of Bone Gap—their melancholy pasts, their terrifying presents, their uncertain futures—acclaimed author Laura Ruby weaves a heartbreaking tale of love and loss, magic and mystery, regret and forgiveness—a story about how the face the world sees is never the sum of who we are.
This is the kind of book that I have the most difficulty reviewing and talking about. While I thought Bone Gap was pretty incredible I am having a difficult time putting into words exactly what about it is so great. Nymeth's discussion about it (which includes some spoilers) does an excellent job of going into detail on just what exactly is so fantastic about this novel. Let me offer some of my own (way less intelligent and eloquent) ideas.
I loved the way these two brothers, Finn and Sean, didn't have the easiest time with one another and yet their commitment to sticking together and looking out for one another was unwavering. Their relationship mirrored in some ways aspects of my relationships with my own siblings – we don't always "get" each other or do the right thing or say the perfect words at the right time, but ultimately we are there for each other in a way that nobody else in the world ever will be or can be. There's something about that sibling bond that is unbreakable, even when on the outside it might be far from perfect.
There's another girl, Petey, who is not mentioned in the summary above but who may have been my favorite character in the book. She and Finn fall in love over the course of the novel, and I absolutely loved this budding relationship. The awkwardness of first kisses (and first other stuff) and uncertain conversations, the feeling of insecurity that takes over when you can't quite figure out why this person that is perfect in every way actually wants to be with you, it was all there in spades.
I wasn't sure about the magical realism aspect of this book (you all know I'm hit or miss when it comes to that) but it really worked here. It wasn't done with a heavy hand, but instead was used to illuminate more clearly the way the characters felt and how they saw the world. What happened to Roza was horrifying and at times, I wasn't sure if it was the magical realism talking or if I was getting the full story, but either way her whole situation could be the subject of endless discussions. I don't want to say too much without giving away spoilers but let's just say that I think we need more books like Bone Gap, books that deal with issues traumatic to women in an open, feminist, woman-centered way.
Anyway. I don't think I articulated at ALL what is so great about this novel, so just go ahead and read the review I linked to above. And then go read Bone Gap.