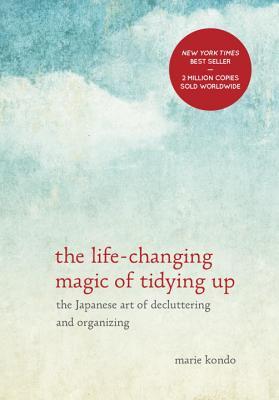 The Life-Changing Magic of Tidying Up: The Japanese Art of Decluttering and Organizing by Marie Kondo
Published by Ten Speed Press
From the publisher:
Japanese cleaning consultant Marie Kondo takes tidying to a whole new level, promising that if you properly simplify and organize your home once, you'll never have to do it again. Most methods advocate a room-by-room or little-by-little approach, which doom you to pick away at your piles of stuff forever. The KonMari Method, with its revolutionary category-by-category system, leads to lasting results. In fact, none of Kondo's clients have lapsed (and she still has a three-month waiting list).
With detailed guidance for determining which items in your house "spark joy" (and which don't), this international bestseller featuring Tokyo's newest lifestyle phenomenon will help you clear your clutter and enjoy the unique magic of a tidy home—and the calm, motivated mindset it can inspire.
I am not a person who likes holding onto things. I am also not the neatest person and have a tendency to let stuff pile up because I don't necessarily have a home for everything IN my home. I thought this book would help me figure out better ways of getting rid of stuff I don't want/need, and organize the stuff I do want/need.
I was mostly right. The basic premise here is that you should handle every single item you own, ask yourself if it sparks joy, and only keep the things that do. There's a lot of other stuff about speaking to your items, thanking them for the purpose they serve/served in your life, and these things seemed a little strange but whatever. She also goes into detail on exactly how best to organize your stuff so that everything has a place and everything is at peace.
The idea that things have feelings (which is basically what she's implying) is weird to me but I can ignore that in favor of some of the concepts in this book that helped me. I purged four large garbage bags of clothes and shoes using her method (and I didn't have a lot of stuff to start with). I also got rid of a ton of makeup/toiletries/miscellaneous bathroom stuff that was just taking up space. Next comes books which is incredibly overwhelming for me, so we'll see how that goes. I also want to work on my extra kitchen stuff I never use, as well as the large collection of bedding for various sized beds I've amassed over the years. One thing at a time.
I liked this book as a kick-start for me to take more seriously getting my shit together. Some of the details were a bit strange, and probably not stuff I'll ever actually do (I draw the line at talking to the items in my home), but the general idea is really helpful. I can see a lot of people getting a LOT of inspiration from this book. I certainly have.