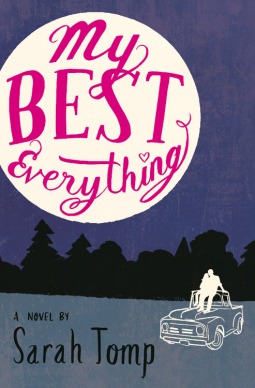 My Best Everything by Sarah Tomp
Published by Little, Brown Books for Young Readers
Lulu has just graduated high school and cannot wait for the summer to be over, when she'll finally leave her small Virginia town for college. But her father springs some horrible news on her – he lost her tuition money so she has to wait another year to go away – and as she's determined to get out no matter what, she comes up with a plan. With her best friends Roni and Bucky, she concocts a scheme to produce and sell moonshine. As things quickly get out of hand, she enlists another guy, Mason, whose family has been in the business for years. With Mason's help, the four of them start making real money, and although Lulu begins having unexpected feelings for Mason, she starts getting truly excited that she'll be able to leave town for good once the summer is over – if they can keep their business hidden until then.
My Best Everything was a quick read, one that has a lot of heart but also deals with a somewhat serious topic. The moonshine business is illegal, and what Lulu and her friends have decided to do for money can get all of them arrested and put in jail. There's a sense of desperation about Lulu that I think a lot of teen readers will relate to – that feeling of NEEDING to escape high school, of being so beyond ready to see the world and get to college and just start your life – and I think Tomp portrayed this in-limbo time between high school and college really well. There's a lot of discussion between Lulu, Roni, and Bucky about the future and what their plans are and the three of them range from knowing better things are in store for them as they grow up and get an education and move on with their lives, to feeling like their small town is the best they'll ever do and so they should just stay put and start adulthood at eighteen. And the three of them go through different stages of feeling this way throughout the book, which I thought was true to life, very representative of what being eighteen feels like and looks like.
Something that I found interesting about My Best Everything is the way it's written. It is in second person, with Lulu addressing someone as "you", and we figure out early on that the person she's writing to is Mason. This gives the book just a little bit of an anticipatory feeling, as the reader can't help but wonder what becomes of their relationship, or if something really awful happened to Mason, which would cause Lulu to write this letter (or whatever it is) to him.
Ultimately I enjoyed My Best Everything but didn't find it to be amazing. It was a good story, with a few elements that made it different from typical YA fare, but it was a really quick read and didn't have a ton of substance to it. I think it will resonate better with younger readers than it did me, and as I said I think it would hit the sweet spot for those teens who feel like Lulu and are ready to get their adult lives started already. I think I've said this before, but I may just be getting too old for certain types of YA. This one falls into the category of like but not love for me.