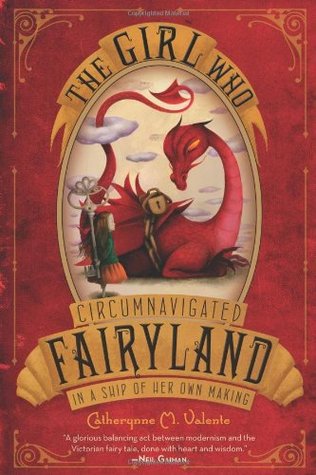 The Girl Who Circumnavigated Fairyland in a Ship of Her Own Making by Catherynne M. Valente
Published by Feiwel & Friends
This is a pretty adorable fantasy featuring twelve-year-old September, who has been whisked away by a man called Green Wind to Fairyland, where she is tasked with finding a talisman and presenting it to the Marquess of Fairyland, and of course the fate of everyone in Fairyland rests in her completion of this one task. I liked this book and can totally see its appeal for adults and children. September is rather intuitive and mature for twelve, but she's also believable for her age, as she's pretty naive too. Valente is very smart with her prose, she's not just taking the reader on a journey, she's looking to draw out emotions too, and she definitely accomplishes that. I am not certain that fantasy is really my thing, though, because I had difficulty keeping track of all the characters and even connecting with them. I don't know. I might read the next book, to see if that enhances the story for me, I might not.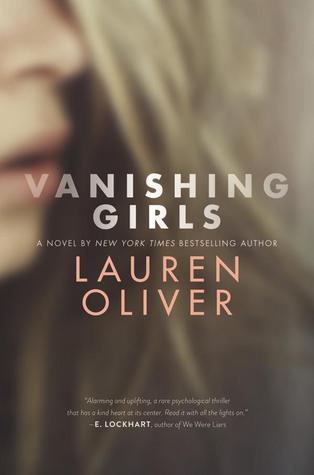 Vanishing Girls by Lauren Oliver
Published by HarperCollins
You guys know I'll read anything Lauren Oliver writes, but I've been mildly disappointed with her most recent few novels. Vanishing Girls is my favorite of her books since Before I Fall – I thought it was pretty great, and brought me back to the Lauren Oliver I love – fantastic writing, characters that break your heart, and a story that you can't put down. Vanishing Girls has it all.
In a nutshell, Nick and Dara are sisters and used to be best friends, until there was an accident that changed their relationship and scarred Dara's beautiful face. On Dara's birthday, she vanishes at the same time that a nine-year-old from their town disappears too, and Nick becomes determined to find them both. Oliver spends time inside the heads of both Nick and Dara, giving the reader a full picture of both girls and how their relationship was damaged so horribly after this accident. There's plenty of twists and turns in this novel, tons of character development, really I couldn't have asked for more. If you liked Before I Fall but haven't been as enamored with Oliver's recent novels, please pick up Vanishing Girls. It's really, fantastically good.
Like Water for Chocolate by Laura Esquivel
Published by Bantam Doubleday Dell Publishing Group
This is a magical novel about a Mexican family, the De la Garza's, focusing mostly on the youngest daughter, Tita. Tita's mother, Mama Elena, decides to stick with Mexican tradition and force Tita to stay home and take care of her into her old age – despite the fact that Tita has fallen in love and wants to get married. Mama Elena fixes Tita's love interest up with Tita's oldest sister, propelling this entire family into dramatics for years to come.
Magical realism isn't quite something I always get, but I did like what Esquivel did with it here. What I loved most was how the emotions of the characters came out in the food Tita cooked – food was a metaphor for every crazy dramatic thing that happened in this family over the years. While I can't say I fell in love with Like Water for Chocolate, I was definitely charmed by it and can recommend it for something a little different than what I typically read.