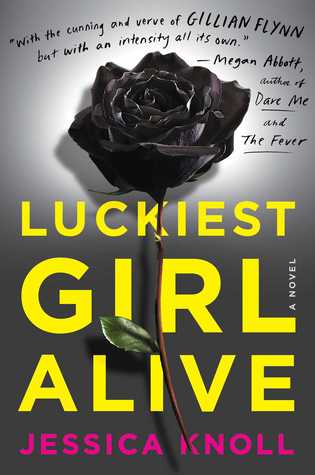 Luckiest Girl Alive by Jessica Knoll
Published by Simon & Schuster
Review copy provided by Netgalley
On the outside, Ani FaNelli seems to have it all – she's engaged to a wonderful (rich) man, has an incredible job, good friends, and maintains a perfect size two under her designer clothes. But Ani has a huge secret, something that happened to her as a teenager, and she's considering airing it out there for all to know about. She's worried, though, that if she's honest with herself and others, the revealing of her secret might come at the expense of her perfect life.
The first thing I have to say is, please ignore anyone who tells you that this book is anything like Gone Girl. IT IS NOT. Also, why do books keep having to be "the next Gone Girl?" Why can't they just stand on their own as the originals they are? Ugh.
Anyway. Luckiest Girl Alive is its own novel with its own story and characters. This book was difficult for me to get into at first. Ani (formerly known as TifAni) had a terrible thing happen to her in high school, after which she completely reinvented herself, became a successful professional, and got engaged to a gorgeous guy, Luke, who comes from a wealthy family. The thing is that Ani is incredibly difficult to even tolerate, much less like. She is marrying a man she doesn't really like because of his money, she's obsessed with her appearance to the point that she definitely has an eating disorder, she's incredibly judgmental of others, and she's just not a very nice person in general. I couldn't figure out what I had gotten myself into with this miserable character and considered abandoning the book early on.
Luckily, it gets better. Ani is selfish and annoying and self-obsessed, but she's also got a rough past and is full of self-loathing and intense guilt because of that past. It takes quite a while to get to what actually happened to her, but once things are revealed, her behavior and personality make a little bit more sense and I almost felt sorry for her. She did experience a traumatic event, she blamed herself, and she lived with the guilt for years. Re-inventing herself didn't help the self-hatred she experienced on a daily basis because of this horrible thing that happened.
The best thing about Luckiest Girl Alive is that when it gets going, it becomes impossible to put down. I liked it a lot because the structure and pacing were just done so well. And also, when I feel so strongly against a character, it kind of makes me respect the author in a weird way. Like, if she can create this character that pulls out of me such deep negative emotions, good on Knoll for doing that. Does that make sense?
Please don't compare this book to any other books and you'll have a great reading experience. Stick with Ani through the beginning and things will clear up towards the middle and end of the novel. Overall I thought Luckiest Girl Alive was a very strong novel and I'm looking forward to more from Jessica Knoll.