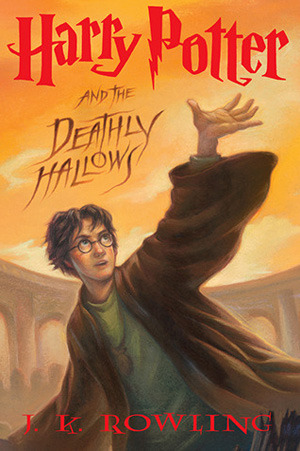 Harry Potter and the Deathly Hallows by J.K. Rowling
Published by Arthur A. Levine Books
It was a sad, sad day when I closed this book and thus ended my re-read of the entire Harry Potter series. It has actually been kind of a while since I finished, but I've been having trouble articulating any kind of real thoughts about this final book so I've put off talking about it. Here are some brief thoughts that are running through my head at the current moment about the final book in the series.
I remember that the first time I read this book, it seemed that Harry, Ron and Hermione did a LOT of camping and worrying and talking and thinking but very little actually DOING something. I must have felt that way because I was so anxious for them to get to some real action, I wanted to hurry through the slower parts. This time around, I didn't feel that way at all; instead, I relished the time spent on trying to figure out the Horcruxes and it didn't seem like overkill to me at all. It felt perfect.
The first time I read this book, I furiously read through the battle scene at the end, and I'm sure I missed a lot, but this time I read slowly and relished every moment – which probably made me enjoy it more. And Neville. Oh, Neville, how I love to see an underdog succeed – and in such a big way here. Made my heart sing.
I remember thinking, the first time I read this book, that when Harry sacrificed himself he was really going to die, and being so pissed off at Rowling for that entire scene. This time, I had so much more peace in my heart because I knew how it all turned out so I was able to relax and enjoy the creativity in the scene, and enjoy how the love that Rowling has for these characters and this story flow through her writing.
A lot of people hate the epilogue but I really love it. In an ordinary book I might not have liked it so much, but in this case, I was SO invested in these characters for such a long time, if I hadn't gotten some peace over where they ended up in their lives the end of the books would have been a lot more difficult for me to handle. Also, if that epilogue hadn't been there, I would have hoped and prayed for YEARS that Rowling would keep writing more. So for me, the epilogue is pure perfection.
I'm sad that these are over but I can always read them again another time! I have so much love for this series it's not even funny. If you are a Harry Potter virgin, please do yourself a favor and check out these books. You won't be sorry.