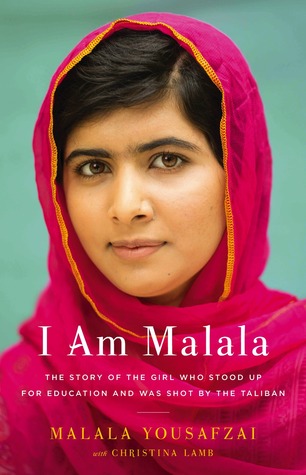 I Am Malala: The Girl Who Stood Up for Education and Was Shot by the Taliban by Malala Yousafzai and Christina Lamb
Published by Little, Brown and Company
From the publisher:
In 2009 Malala Yousafzai began writing an anonymous blog for BBC Urdu about life in the Swat Valley as the Taliban gained control, at times banning girls from attending school. When her identity was discovered, Malala began to appear in Pakistani and international media, campaigning for education for all. On 9 October 2012, Malala was shot at point-blank range by a member of the Taliban on the way home from school. Remarkably, she survived. In April 2013, Time magazine named her one of the 100 Most Influential People in the World.
I Am Malala tells the inspiring story of a schoolgirl who was determined not to be intimidated by extremists, and faced the Taliban with immense courage. Malala speaks of her continuing campaign for every girl's right to an education, shining a light into the lives of those children who cannot attend school. This is just the beginning…
Since the first time I heard about this courageous girl Malala, I wanted to learn more about her and hear her story. I Am Malala gave me the chance to do that, and what an amazing and inspiring story this girl has to tell.
Words cannot properly express the difficulty I had in comprehending that the story Malala was telling me was happening in today's world. Intellectually I understand the Taliban exist, that they are oppressive and violent and hate women and require them to submit and don't believe in equality and education for women, and all kinds of other awful things that make me want to cry and stamp my feet and fix all the world's problems, but hearing it from the point of view of an actual person who is living it, right now, is not easy. What's so crazy is that the things the Taliban are scared of – women being educated and having equal access to things that men have – are the exact things that caused Malala to believe that she deserves better, that her country and her world deserve better, than what the Taliban believe is the proper place for women and girls. So basically, she's proving them right by showing that to educate a girl is to make girls stronger, more intelligent, more capable of doing exactly the things the Taliban is terrified they will do.
And that is exactly what is so empowering about Malala's story. She grew up in a family that believed in equality of the sexes. She has a father who believes girls can do anything boys can do; in fact, he encouraged his daughter to speak up for her rights and represent women and girls in the public sphere. She is proof that education is truly the key to power, to equality, to peace, to rising above the place where a repressive society wants to keep women and girls. As powerful and inspiring as Malala's story is, it is horrifying and disturbing, too. She was shot in the head – literally – for daring to want to be educated. Shocking and horrifying doesn't quite begin to cover it.
That is why this book is such a difficult one to read but also to write about and recommend. It is a must-read, I truly believe that. There are so many things going on in the world around us that need to be understood and recognized, paid attention to. Malala's book is just one piece of writing that illuminates something for those of us lucky enough to live in a place where the idea of something like this happening is atrocious. But if we don't educate ourselves and at the very least have an understanding of what's happening in countries where groups like the Taliban and ISIS are taking over, how can we expect young girls like Malala to risk their lives to stand up to these groups for something as seemingly God-given as the right to an education?
Anyway. I found this book incredibly thought-provoking and very inspirational. Oh, I forgot to say that I listened to the audio, narrated by Neela Vaswani, and it was very good. I Am Malala is a fantastic, and important, choice in print or audio.