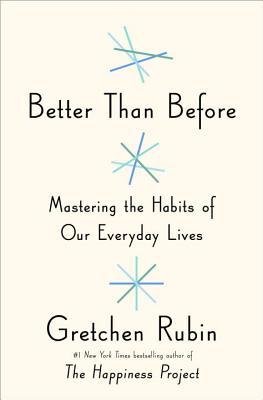 Better Than Before: Mastering the Habits of Our Everyday Lives by Gretchen Rubin
Published by Crown
Review copy provided by Netgalley
I loved The Happiness Project so I knew I'd pick up this book as soon as I could get my hands on it. Overall, I really liked it and can see a of people getting something out of it. This is one of those kinds of books where people either like this kind of thing, and will therefore enjoy the book, or find discussing boring stuff like habits, well, boring, and will definitely not enjoy the book at ALL. I find myself in the former camp so it was endlessly fascinating to me to learn about all the different ways our personalities can be sorted and how that has an effect on how we best develop good habits and ditch bad ones. Better Than Before is, generally speaking, exactly what i was expecting and so – it was great, I enjoyed it and if you're like me, you will too!
A Small Place by Jamaica Kincaid
Published by Farrar, Straus and Giroux
The publisher describes A Small Place as "A brilliant look at colonialism and its effects in Antigua", which it is, but it's so much more than that. It is Kincaid's love letter to her home country, complete with lush descriptions of beautiful scenery and daily life on this island. It is a confronting essay about what colonialism and rich white people have done to this beautiful, formerly perfect and majestic place. It is something that should challenge the reader, make you take a hard look at yourself and what you do and say and experience when visiting another country or culture (it did for me). It should make you examine your innermost thoughts and ideas about race and other cultures and why and how people can live in poverty on the very soil millions of tourists pay a LOT of money to visit every single year (it did for me). A Small Place is powerful and should be read by everyone.
Hammer Head: The Making of a Carpenter by Nina MacLaughlin
Published by W. W. Norton & Company
After spending years working for a newspaper, MacLaughlin decided one day that she wanted to spend her days in a more physical, challenging and exhausting work environment, so she applied to be an apprentice to a female carpenter. Throughout this memoir, she describes the grueling and difficult work, complete with physical, emotional and mental rewards, and the lessons she learned along the way.
This is a book that I caught mention of scrolling through Twitter and thought it sounded really interesting and different. I was right – I really liked this book and it was totally an unexpected fun surprise for me. Becoming a carpenter is something I have absolutely zero interest in, but I am interested in reading about people making transformations in their lives and that's exactly what the book entails. I found the carpentry work fascinating (which was a shock to me), but even more was the relationship MacLaughlin built with her new boss and the things she learned about herself throughout this process. I highly recommend Hammer Head to all kinds of readers!