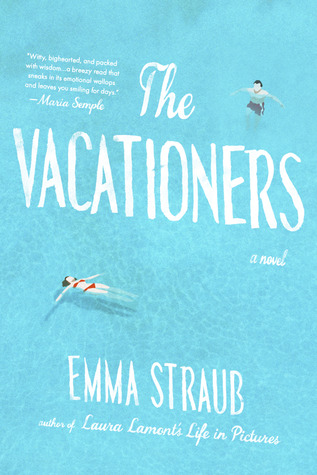 The Vacationers by Emma Straub
Published by Riverhead Books
From the publisher:
For the Posts, a two-week trip to the Balearic island of Mallorca with their extended family and friends is a celebration: Franny and Jim are observing their thirty-fifth wedding anniversary, and their daughter, Sylvia, has graduated from high school. The sunlit island, its mountains and beaches, its tapas and tennis courts, also promise an escape from the tensions simmering at home in Manhattan. But all does not go according to plan: over the course of the vacation, secrets come to light, old and new humiliations are experienced, childhood rivalries resurface, and ancient wounds are exacerbated.

This is a story of the sides of ourselves that we choose to show and those we try to conceal, of the ways we tear each other down and build each other up again, and the bonds that ultimately hold us together. With wry humor and tremendous heart, Emma Straub delivers a richly satisfying story of a family in the midst of a maelstrom of change, emerging irrevocably altered yet whole.
What could be more appropriate than reading a book about being on vacation while actually being on vacation yourself? Nothing, that's what, so that's exactly when I read this book – on vacation in Mexico. Unlike the characters, I was with friends and was having a great time, with absolutely no drama. But that certainly didn't keep me from enjoying these characters and their drama – because drama was aplenty in this novel, and I loved every second of it.
While none of the characters are particularly likable, they all have mostly good intentions, and the drama is mostly a matter of people choosing not to reveal pieces of themselves to the ones they love. We all show our "best self" most of the time – it's when you tear down those walls and become vulnerable and show people your truth that great relationships happen. For a variety of reasons, each of the characters in this book have a hard time with that, to some degree or another, which of course creates huge issues in their relationships.
Ultimately, I feel like this is a book about how all relationships are about choices. To stay in a marriage is a choice each member of the couple makes every single day. To continue a friendship through ups and downs, through lies and betrayals and struggles, is a choice to forgive a friend who has hurt you or choose to detach yourself from that friendship and move on. To have a parent-child relationship, especially for teens or grown children, is a choice that both the parent and child must make and actively work to manage and grow the relationship from childhood into adulthood – because it has to change as the child grows up. The last sentence of the book illustrates this theme perfectly and it's probably my favorite last sentence of a book I've read, ever.
I really, really liked this book and I am looking forward to reading more from Emma Staub!