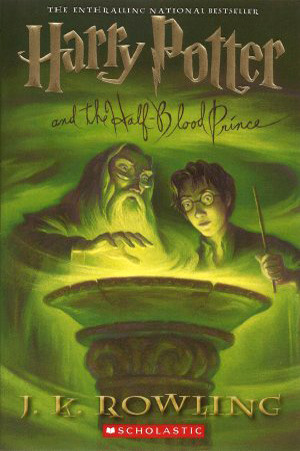 Harry Potter and the Half-Blood Prince by J.K. Rowling
Published by Scholastic
I am way far behind on the Harry Potter Readalong, but as of this writing I've already finished the last two books, just haven't made the time to write about them. Well, here are some brief thoughts on the sixth book!
Love love love. I so overwhelmingly love this book and everything about it. I know I said the fifth book was my favorite, and maybe it still is, but this is a very close second. More than anything else about this book, what I truly love about it is just how much Harry learns about the truth of his life and what he has to do, and how much trust Dumbledore FINALLY places in Harry. After years of keeping him in the dark to "protect" him, Dumbledore finally gets that he needs to just be honest, Harry is not a kid anymore (well, I'd argue that a sixteen-year-old boy is most definitely a kid, but for wizarding purposes not so much), and he deserves to hear the whole story, nothing left out. So Dumbledore does a pretty decent job of that, and we readers are treated to the same information. Which is to say, lots and lots of information is thrown at Harry and the reader in this book. I've read this one a few times now, and I feel like each time I read it, I catch something that I must have glossed over the first few times. Every time there is something new to me – either I had forgotten a certain detail, or never paid enough attention in past readings to pick up on it.
This is also the book where I fully came to appreciate Rowling's genius in writing this story. There are things that happen in this book that were foreshadowed several books back, only we as readers had no idea what was to come – but Rowling certainly did! Nothing proves to me more that she is immensely talented than every single word written in this book.
And Harry and Ginny! Cue trumpets and a parade because YAY! There are a lot of fans who thought Rowling got this wrong, who felt that Harry and Hermione should have ended up together, but I am not one of them. I love Harry and Ginny together and seeing it happen was oh so satisfying.
The end of this book is soul-crushingly devastating and I cry every single time I read it. It is terrible, awful, so unbelievably painful and every time I read it, I secretly hope that maybe they've changed it and IT doesn't happen. Yet it always does. But it must be done to further the story and get Harry to the point of such anger and resolve that he knows with absolute certainty what he must do, what is his destiny, and that is exactly where the book ends. And I love it.
Obviously this is in no way a "review" of Harry Potter and the Half-Blood Prince. And it's also not a comprehensive list of all of my thoughts (of which I have many more). But you get the general idea of my feelings for it, which is my goal.
Thoughts?