Everything I Never Told You by Celeste Ng
Published by Penguin Press
This novel, about a Chinese-American family in the 1970's, has gotten a LOT of buzz since its publication last summer. In this novel, seventeen-year-old Lydia, the middle child of the Lee family and the favorite child of her parents, has gone missing, and instead of leaning on one another for support, this family, which was already fragile to begin with, basically comes apart at the seams.
I read this for book club, and while I unfortunately could not attend the meeting, I found out the following month that most everyone didn't like it. I actually disagreed for the most part, I guess I can't say I "like" a book this depressing, but I thought it was written very excellently and the author really made me feel for these characters. I didn't like either adult in this family, but all three of the kids broke my heart for different reasons. I really got close with these characters and felt that sense of urgency as the end of the book approached to finally find out exactly what happened to Lydia. While I can't say I loved Everything I Never Told You, I thought it was a solid piece of fiction, incredibly well-written, and I can see why it has received such high acclaim.
We Are Not Ourselves by Matthew Thomas
Published by Simon & Schuster
This is an epic family saga type book – think Wally Lamb but a little quieter – exactly the kind of book that I can really sink my teeth into, get involved with the characters, and come away feeling like I've gotten to know and love another family, like I have new friends. We Are Not Ourselves follows Eileen Tumulty, raised in Queens by Irish immigrant parents, from about the age of ten – in the 1950's – to the present. In that time, she takes care of her alcoholic mother, meets practical scientist Ed and gets married, becomes a nurse, has a son Connell, and basically the reader just follows this family throughout their lives.
It may sound boring but it is far from that. There's a ton of struggle and strife and the push-pull of a marriage and family here. There's also a Big Event that happens to this family about three-quarters of the way through the book that changes a lot of the direction of the novel. I thought the writing in this novel was incredible and despite its length, i couldn't put the book down. I really got involved with these characters, and even though I had a difficult time liking any of them, that seemed not to matter as I just felt for them. They didn't act the way I would have acted, didn't see the world how I do, yet I couldn't help but get them. Does that make sense? Anyway, I thought this book was just as great as everyone says and I highly recommend it!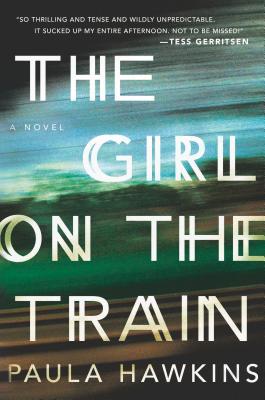 The Girl on a Train by Paula Hawkins
Published by Riverhead Books
If you haven't heard about this one, you must be living under a rock. In this novel, Rachel is an alcoholic who is mourning her failed marriage and loss of her job, so she rides the train into London each day as if she were going to work and watches the families as she rides by. She makes up names and stories about one particular couple, and when she reads in the newspaper that the woman has disappeared, she decides to get involved in the investigation.
I totally loved this one. I didn't particularly like any of the characters, they certainly didn't deserve my compassion, but oh my goodness did Hawkins take me on a wild ride here! I could NOT put this book down (especially the last fifty pages – wow!) and was totally engrossed in the story from start to finish. She totally surprised me with the ending and I am just very impressed with what she did here. And for a debut novel, this is incredibly good. Highly recommended – I get why everyone has been buzzing about this one!