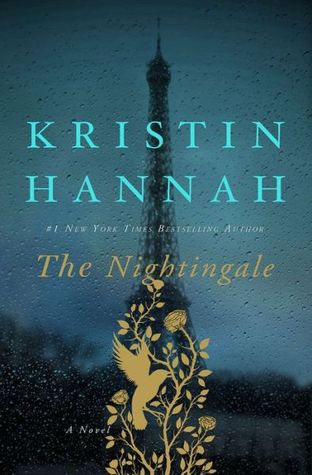 The Nightingale by Kristin Hannah
Published by St. Martin's Press
Review copy provided by Netgalley
Sisters Vianne and Isabelle, though united by a difficult childhood, could not be any more different. Responsible Vianne lives in the country with her darling husband and daughter, and although she made mistakes in her past, she's now devoted her life to her family, her home, and her job as a teacher. Rebellious eighteen-year-old Isabelle doesn't hesitate to fall in love with the wrong man, defy her father's orders, and flee Paris for her sister's home when all goes horrifically wrong.
With World War Two in full swing, the sisters are pulled apart both by choice and circumstance. Vianne's husband is forced to go to war, and a German soldier decides to live in her home with her and her young daughter. Isabelle has joined the Resistance, which takes her back to Nazi-controlled Paris and the father she desperately ran from months earlier. Both women are in precarious, extremely dangerous situations, and the consequences for both of them will be beyond what either can imagine.
Every time I think I've read all I can about the Second World War, another book comes along and sweeps me off my feet. In this case, The Nightingale reminded me that there will never be "too many" books about this war (or about any war), because there are an infinite number of experiences people had, and therefore an infinite number of stories to be told. In this case, I was entranced by Vianne and Isabelle and the incredible story Hannah told through these characters. This is a book about love, hope, resiliency in the face of devastating circumstances, about powerful women and about survival against all odds. This novel pulled so many emotions from me and I couldn't put it down – I was totally swept into this story, as difficult as it was to read at times.
Here's what I thought was so special about this book – these are ordinary, regular, minding-their-own-business people. People stuck in the middle of a war they had no say in, didn't vote for, didn't want, don't understand, much less agree with. Sure, eventually Isabelle gets personally involved and actually becomes quite a celebrity in the Resistance (read the book to find out exactly what she does), but even she doesn't get entrenched until the situation is so dire that she cannot possibly imagine doing nothing. Vianne is in a different situation, she has a child to protect and care for, but an enemy soldier is LIVING IN HER HOME. Imagine this – we are at war and one day you hear a knock at the door, and an enemy soldier is there, demanding to live in your upstairs bedroom, to eat your food and use your bathroom and LIVE in your house. This is incomprehensible to me but apparently it was the norm in many Nazi-occupied towns and cities over the course of the war.
I just loved The Nightingale so much. I cannot tell you quite how deeply the book resonated with me, made me think, made me fall in love with these characters, made me consider aspects of the Second World War I'd never thought about before, all of that and more. This is only my second time picking up a novel by Kristin Hannah but I can guarantee that it won't be my last. Highly recommended!