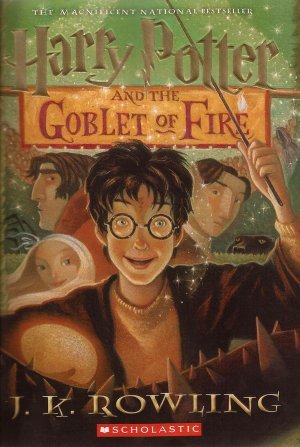 Harry Potter and the Goblet of Fire by J.K. Rowling
Published by Scholastic
If you didn't know already, Sheila at Book Journey is hosting a Harry Potter read along, and I'm happy to participate. 🙂 Here are some brief thoughts on the fourth book.
I forgot how LONG this book is! Although it reads very quickly, it took me a lot longer than I anticipated to get through this one.
No quidditch? Sad! Although the competition was probably more exciting than quidditch matches, I did miss that element of the books in this one.
We finally see how evil and horrific the Death Eaters are in the very beginning of the book and it is really just some foreshadowing of what else is coming. Poor muggles!
I loved Hermione's sass and ability to tell Ron how much of an idiot he was being throughout this book. I laughed out loud during the part when they were trying to figure out who to ask as dates to the ball and neither Harry nor Ron could believe that some other guy actually asked Hermione. It's like, wake up and realize your best friend is a girl! And a pretty damn awesome one, too!
Over and over again while reading this book I just kept shaking my head in disbelief that the wizards and witches in charge actually allowed Harry to compete in the Triwizard Tournament. Yes I get that there are "rules" and I guess you can't break magical rules but still … come on now!
On that note, I was also shocked that no one really questioned, at least in all seriousness, the fact that Harry's name was put into the goblet under very suspicious circumstances. Who but a dark wizard would be able to circumnavigate all the hexes that Dumbledore put on the thing? Even though I have read this book before and therefore knew the ending, I was shocked by the fact that no one thought of the extremely obvious culprit behind Harry's name getting into the tournament.
While the last book felt like a bridge between the simpler times of Harry being a preteen and the darker times that are to come in the last four books, Goblet of Fire felt like a perfect middle of the series to me. For most of the book, while Harry is dealing with trials and tribulations and competing in some extremely difficult challenges for the tournament, his life is relatively innocent. Until the end, and at that point it's ON and bad things happen rather quickly – which is the perfect set-up for the final three books in the series.
I remembered the whole ending except for the fact that Moody was involved, and the details of that whole situation. That was a welcome surprise because I love when I forget things in these books so I get to experience it as if it were the first time in the re-read!
I love these books. And that is all.