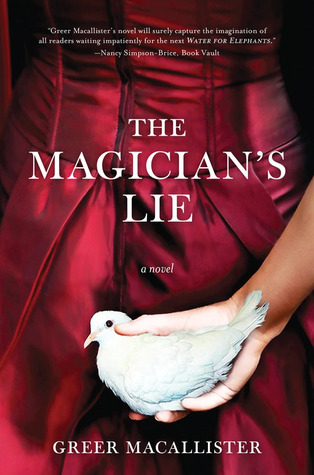 The Magician's Lie by Greer Macallister
Published by Sourcebooks Landmark
Review copy provided by SheReads
The Amazing Arden is a famous female magician, running her own show and her own empire in a male-dominated world and industry – it is the early 1900's and traveling circuses, usually headed by men, are all the rage. When Arden's husband is found dead inside one of her famous illusions, young detective Virgil Holt is determined to get her confession, so he finds her in a bar, brings her home, and traps her until she gives him the information he needs. But the story she spins is unlike anything Holt's ever heard before, and he's torn as to whether she's telling him elaborate lies, or if her crazy story could actually be the truth.
This book appealed to me because it had been compared to Water for Elephants, a book I loved years ago. The novel begins with Virgil watching The Amazing Arden's act and finding himself shocked and confused by what he's seeing – he doesn't know how she's making these illusions happen, but he instinctively doesn't trust the woman behind them. When her husband is found dead, he just knows that she's either responsible for the death or involved somehow. Macallister draws the reader into the story right away – Arden's husband is found within the first few pages, and a few pages after that, Virgil tracks down Arden and basically kidnaps her. After that, the majority of the novel is Arden telling Virgil her life story.
And what a life story it is! Arden's past is filled with tragedy and the life she made for herself only came about through a mixture of determination, patience, circumstance, luck, and sheer will on Arden's part to not go back to where she came from. But the whole time Arden is telling Virgil her life story, he's questioning everything she says and wondering if he can trust even one word that comes out of her mouth. When she finishes her tale, Virgil is shocked and the reader is left feeling the same way.
I liked The Magician's Lie well enough. I found myself spellbound by Arden's story, alternately horrified by the things she experienced and proud of her for turning such a difficult life into such a successful one. But at the same time, I didn't love this novel as much as I wanted to. The characters were a little too much for me – the good guys too perfect and the bad guys had not an ounce of humanity in them. Arden herself is a mystery because while as a reader, you want to like her and root for her, you also suspect that she's playing you and Virgil for fools. Because I could never trust Arden, I couldn't exactly like her, even though I found myself hoping that what she was saying was the truth – until the very end. Without going into detail, while I didn't quite see the ending coming, it did feel a bit contrived to me. Almost as if the author knew she had to do something shocking with this story, and what she chose to do may have worked really well for a lot of people – but for me, not so much.
I don't know. I'm torn with this one because while I really liked the journey and was highly entertained by most of the novel, there were aspects of The Magician's Lie that I didn't love. But I think that a lot of people will really enjoy this book and I do commend the author for an incredibly unique and successful debut novel.