In an effort to at least mention everything I read at the end of 2014, I will be doing a few batches of mini-reviews. Here are the first few.
What Remains: A Memoir of Fate, Friendship, and Love by Carole Radziwill
Published by Scribner
I first heard of Carole Radziwill when she appeared on the Oprah show many years back. It hadn't been long before her appearance on the show that she tragically lost her best friend, Carolyn Bessette Kennedy and her husband's cousin, John Kennedy, in a plane crash, and immediately after that lost her husband, Anthony Radziwill, to cancer. I was struck, even at whatever young age I was when I watched that episode, by Carole's amazing strength and positive attitude in the face of such tragic circumstances.
Fast-forward many years – Carole is now a reality TV star on the show Desperate Housewives of New York City, which I happen to watch and love. I LOVE her on the show – she is witty, sarcastic, no-nonsense, and extremely cool. I decided to pick up this book for all those reasons, plus the fact that a good friend read it and recommended it to me. You guys, this book is so fantastic. Carole's life is really fascinating – it was almost a fluke that she met and fell in love with this man of royalty and his incredibly famous family. Her friendship with Carolyn Bessette Kennedy is one that many women will be able to relate to – most of us have that BFF in our lives who we couldn't imagine living without, the one person we can go to with absolutely anything and it will be a judgment-free zone. Carolyn was that person to Carole, and she lost her way, way too soon. Anthony's scary and sad battle with cancer was heartbreaking to read about, but again, so much of this book is about the strength and courage Carole had in fighting this battle alongside her husband. What Remains is really a beautiful book and I highly recommend picking it up, for so many reasons.
Love & Treasure by Ayelet Waldman
Published by Knopf
This is a complex and layered novel about the Hungarian Gold Train in World War Two. Waldman introduces the reader to Jack Wiseman, a lieutenant who in 1945 is charged with guarding a massive warehouse full of treasures stolen from Jewish people during the war. Seventy years later, Jack gives his granddaughter, Natalie, a mysterious necklace and asks her to search for the woman to whom it belonged. Natalie's search introduces the reader to even more characters, with even more complicated histories, and the novel continues on from there.
I really liked this novel and thought the writing was absolutely beautiful. I loved how Waldman introduced me to an element of the Holocaust that I knew about, vaguely, but hadn't read much about in the past. The book is kind of three novellas that ultimately tie together into one larger novel, and while I found that format effective for telling this particular story, it wasn't my favorite overall. I got super engrossed in one story, only to have it end and move on to the next novella and its characters, and that threw me off a bit. Like I said, it worked for Love & Treasure, but I would be annoyed to read books in that format regularly. I know Waldman has said some nasty stuff on Twitter lately and people are kind of down on her because of that, but I really enjoyed this book. Girl can WRITE.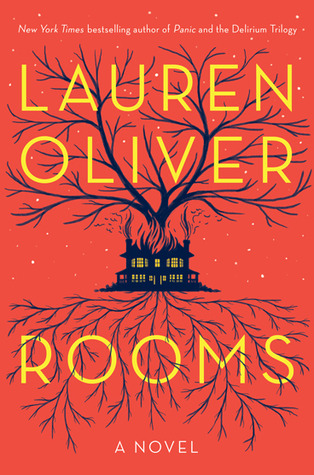 Rooms by Lauren Oliver
Published by Ecco
In this novel, the reader gets to know both the living Walker family, and the ghosts of the people who inhabited their home before them, Alice and Sandra. Richard Walker left his possessions and home to his family members – ex-wife Caroline, teenage son Trenton, and daughter Minna (along with her six-year-old daughter) – and the four of them are back in Walker's house, sorting through his things, as Alice and Sandra watch. Though Alice and Sandra cannot speak to the living, they communicate to them through the house itself. When a new ghost shows up, and Trenton begins communicating with her, Alice and Sandra are thrown off-course, tipping the delicate balance between the humans and ghosts in the house.
Oliver has gotten a lot of criticism for this one but I really liked it! I was swept into this world right away, desperate to learn more about Alice and Sandra and why they were still ghosts in this home. I didn't particularly like any of the human characters, but I did want them to figure out their own issues and move on from their family's legacy of hatred towards one another. I think Oliver is a fantastic writer and while Rooms isn't her best book ever, I highly enjoyed the experience of reading it.