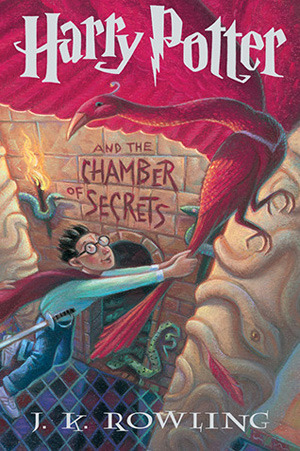 When I began my re-read of Harry Potter and the Chamber of Secrets for Sheila's Harry Potter Re-read I wasn't super excited. I've always felt that this is my least favorite book in the series, and even though I love all the books, this is the one I felt I could probably skip and feel okay about it.
I didn't skip it, and I'm glad I didn't, but I still think it's my least favorite of all seven novels. Here are some of my thoughts about this one – with spoilers!
Gilderoy Lockhart is SO ANNOYING. Seriously. I strongly dislike that guy and I wanted to skip every single scene of the book that he was in.
I remembered a LOT more foreshadowing about Ginny being involved with the Chamber of Secrets than there actually was in the book. In my memory, she was stressed, obviously dealing with some kind of major issue, and avoiding Harry, Ron and Hermione like the plague. Well, that's not really what happened. She only showed up after more than halfway through the book, and there was maybe one conversation between she and someone else (Percy I think) when Harry and Ron thought something might be up with her. Before long, Harry himself found the diary and then we don't see Ginny again until she ends up in the Chamber.
Harry and Ron were really stupid to drive that car to school. Why, oh why, couldn't they just take the car and drive back to The Burrow and have the Weasleys get them to school? Or send an owl to the school informing them the barrier closed? Ugh, pre-teen boys and their rebelliousness (aka stupidity).
As always, I continue to love Hermione. She stepped up her game in this book, coming up with the potion the way she did and then in the end solving the whole thing (of course).
I watched the movie right after finishing the book and I liked this movie better than the first movie. I used to think I didn't like any of the Harry Potter movies, but upon watching them so far I'm enjoying them a lot more than I thought. It's fun to watch them right after reading the book and finding the things that were changed or left out entirely.
Anyway – while this is still my least favorite of all seven books, I did enjoy the re-read! Thanks again Sheila for putting this together. Now it's on to Prisoner of Azkaban!