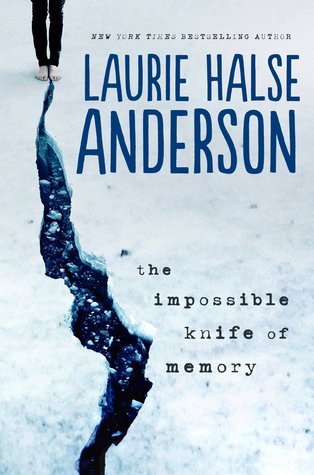 The Impossible Knife of Memory by Laurie Halse Anderson
Published by Viking Juvenile
From the publisher:
For the past five years, Hayley Kincain and her father, Andy, have been on the road, never staying long in one place as he struggles to escape the demons that have tortured him since his return from Iraq. Now they are back in the town where he grew up so Hayley can attend school. Perhaps, for the first time, Hayley can have a normal life, put aside her own painful memories, even have a relationship with Finn, the hot guy who obviously likes her but is hiding secrets of his own.

Will being back home help Andy's PTSD, or will his terrible memories drag him to the edge of hell, and drugs push him over? The Impossible Knife of Memory is Laurie Halse Anderson at her finest: compelling, surprising, and impossible to put down.
Everything I have read by Laurie Halse Anderson has been incredible, and this book is no different. She writes with such unflinching honesty and creates characters who are so damaged and raw, characters you get mad at but want to hug all at the same time.
In this case, Hayley is damaged and raw, yes, but she is also a child and is keeping her shit together pretty well for a teenager tasked with the enormous responsibility of taking care of her mentally ill father. I just wanted to shake Andy – couldn't he see what he was putting his daughter through? The answer is, unfortunately, no he couldn't see it, not through the haze of his PTSD and resulting self-medication through alcohol. I felt deeply for him, but ultimately I just wanted him to get help and get back into the real world so that Hayley could attempt some semblance of a normal teenage existence.
I liked Finn a lot, and I definitely liked him and Hayley together, but honestly he was secondary to the story of Hayley and her dad for me. I think the book could have been just as good without him in it. Not that he took anything away from the story (really it's a perfect book, in my opinion), but all I'm saying is the romance itself wasn't absolutely necessary and the book would have been phenomenal either way.
It's terrible what happens to the men and women in our military upon returning home. They go through unimaginable mental and emotional trauma (not to mention the physical trauma) when fighting a war, and when they come home they are expected to carry on as if nothing happened, as if their bodies and minds aren't irreparably changed, mostly for the worse. And the level of pride and self-reliance that the military instills in them makes it very difficult for those suffering from PTSD, addiction, and other mental and emotional issues to get the help that would truly make a difference in their lives. The level to which Anderson portrayed this very real problem in her novel is excellent. The Impossible Knife of Memory is an important book, and it's one I won't soon forget. Please read it.