Love Life by Rob Lowe
Published by Simon & Schuster
I really liked Lowe's first book, Stories I Only Tell My Friends, so I knew I'd get to this one as soon as I could. Love Life isn't so much a fluid memoir as it is a series of anecdotes, vignettes, and stories about Lowe's life – both the career side and the personal side. He talks a lot about his family in this book, and I loved getting to know him more through the stories about his wife and children. There's less name-dropping in this book than in the first one – this one seemed more personal to me, less talk of other celebrities, unless they were integral in some way to a story about something else. Of course, I listened to the audio of this one, narrated by Lowe himself, and it was phenomenal. I could listen to that guy's voice all day long. If you're a fan of Rob Lowe, I highly recommend this book.
Brunette Ambition by Lea Michele
Published by Harmony Books
I really like Glee and I think Lea Michele is super talented. I was heartbroken for her over the passing of Cory Monteith, and I admired the way she handled herself immediately after his death. Unfortunately, her book is not something I enjoyed. It seemed that the overall message of the book is "be unique, be yourself, you are special just the way you are", yet the entire book is her telling her fans what's worked for her in all aspects of her life – food, style, health, etc. So if the reader is supposed to be their own unique self, why would they read this book and become exactly like Lea Michele? The message was very confusing to me. Also, I tried making one of her recipes (for Italian Vegetable Soup), hoping that the recipe would redeem the rest of the book, and the soup turned out just okay. Nothing special. So even though I'm still a fan of Lea Michele, I did not like her book.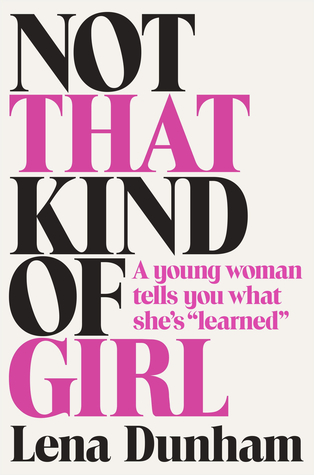 Not That Kind of Girl: A Young Woman Tells You What She's "Learned" by Lena Dunham
Published by Random House
I've seen the first two seasons of Girls and really admire the way Dunham is so unflinchingly honest in that show, the way the characters say and do things that are real and authentic but rarely shown/discussed on TV. I was excited to read this book because I wanted to get to know Dunham more as a person, outside of the character she plays on the show. I liked this book enough – basically she's the same raw, authentic person in real life as Hannah, the character she portrays on her show. She's not afraid to tell the truth and nothing embarrasses her. I didn't love this book, though, and I think I was just expecting more. I guess I was expecting more of a deeper read – I don't know how to explain it. But I liked it! I admire Dunham a lot and I am glad I read her book. Also, I listened to the audio of this one, which is narrated by Dunham herself, and it was a great choice.