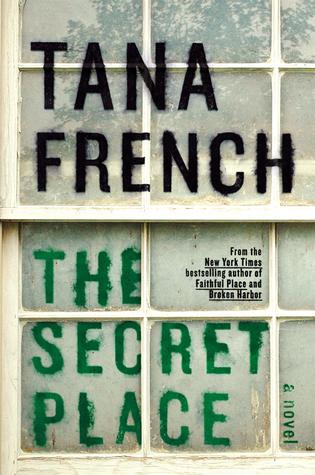 The Secret Place by Tana French
Published by Viking Adult
From the publisher:
Detective Stephen Moran has been waiting for his chance to get a foot in the door of Dublin's Murder Squad—and one morning, sixteen-year-old Holly Mackey brings him this photo. The Secret Place, a board where the girls at St. Kilda's School can pin up their secrets anonymously, is normally a mishmash of gossip and covert cruelty, but today someone has used it to reignite the stalled investigation into the murder of handsome, popular Chris Harper. Stephen joins forces with the abrasive Detective Antoinette Conway to find out who and why.

But everything they discover leads them back to Holly's close-knit group of friends and their fierce enemies, a rival clique—and to the tangled web of relationships that bound all the girls to Chris Harper. Every step in their direction turns up the pressure. Antoinette Conway is already suspicious of Stephen's links to the Mackey family. St. Kilda's will go a long way to keep murder outside their walls. Holly's father, Detective Frank Mackey, is circling, ready to pounce if any of the new evidence points toward his daughter. And the private underworld of teenage girls can be more mysterious and more dangerous than either of the detectives imagined.
The level of excitement that I feel when Tana French publishes a new novel can't quite be explained. I think she is so incredible, so thoughtful in her plotting and characterizations, so insightful with how she uses her characters and their motivations to tell a story, I can't get enough of her.
There was so much about this book I loved. The fact that teenagers were in the spotlight here was something different from her previous novels and a welcome surprise. Who among us bookish people doesn't appreciate a good boarding school drama? Although, to be honest, these teenagers certainly got on my last nerve more than once. Since I don't have a teenager at home, I'm not as familiar with their particular mess of anxiety, self-hatred, overconfidence, bitchiness, etc., but friends of mine with teen daughters say that French was spot on with these girls.
I liked Stephen a lot and appreciated his relationship with Conway. I'm REALLY hoping Antoinette Conway gets to be the focus of French's next book – while I liked Stephen, it's possible I found her slightly more compelling than him. I liked how well French got Stephen's personal feelings about Mackey and Mackey's daughter mixed into this story and how it was clear that his relationship with Mackey was clouding his judgement about Holly. It was just enough to make me question a LOT of where my own head was at with this story.
In the end, the culprit was not the person I had guessed, but looking back it would have been easy to figure out if I was looking for the right clues. (And if I was even remotely good at guessing these things, when in fact I am not.) I loved The Secret Place, just as I've loved all of her novels, and even an imperfect Tana French is almost perfect for me. Highly recommended!