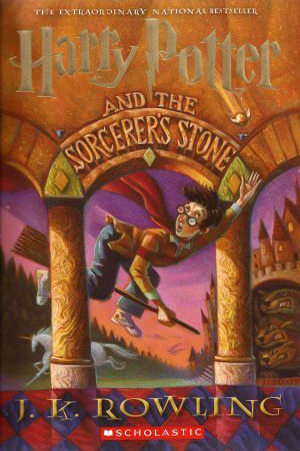 Harry Potter and the Sorcerer's Stone by J.K. Rowling
Published by Scholastic
I have no idea how many times I've read this book. Lots. I've definitely read it the most of the entire series, because when the last three books came out I read the rest of the series from the beginning in anticipation of the newest book (each time). But even though I practically have the book memorized, it's still a great reading experience every single time.
Every time I pick up this book I am amazed at J.K. Rowling and the sheer brilliance of what she created. I heard that she didn't know she would be writing seven books as she wrote this one, but that's incredibly difficult to believe because there are SO MANY things throughout this book that indicate where the rest of the series is headed.
My favorite scene in the book is the one in which Harry, Ron and Hermione beat the troll in the girls' bathroom and from that point on, the three of them are best friends. Anyone who's read this series has fallen in love with the three of them and their true friendship, and to read where it all began … I love that scene.
I am privileged to live near Orlando, Florida and also to have season passes to the Universal Studios/Islands of Adventure theme parks where Harry Potter world is located. Upon finishing The Sorcerer's Stone I happened to be at Universal with my husband, and for the first time since visiting the second half of Harry Potter world (the new half, Diagon Alley), I took the time to go into all the stores and allowed myself to imagine I was going to be a new student at Hogwarts. I went to the wand shop and looked through all the wands, the robe store, the owlery, everything. I've done all of this before, but never so quickly after reading one of the books, and it was just that much more fun. Also, if you ever have the opportunity to travel to Orlando, you MUST visit these amazing theme parks. The attention to detail is incredible – you truly feel like you are in Harry Potter's world.
I'm having so much fun reading these books! Thanks again to Sheila of Book Journey for hosting the readalong. Next up – Chamber of Secrets!