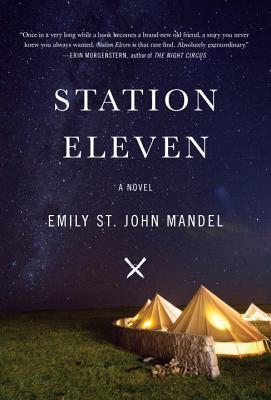 Station Eleven by Emily St. John Mandel
Published by Knopf
Review copy provided by Netgalley
From the publisher:
One snowy night a famous Hollywood actor slumps over and dies onstage during a production of King Lear. Hours later, the world as we know it begins to dissolve. Moving back and forth in time-from the actor's early days as a film star to fifteen years in the future, when a theater troupe known as the Traveling Symphony roams the wasteland of what remains-this suspenseful, elegiac, spellbinding novel charts the strange twists of fate that connect five people: the actor, the man who tried to save him, the actor's first wife, his oldest friend, and a young actress with the Traveling Symphony, caught in the crosshairs of a dangerous self-proclaimed prophet. Sometimes terrifying, sometimes tender, Station Eleven tells a story about the relationships that sustain us, the ephemeral nature of fame, and the beauty of the world as we know it.
Station Eleven was one of my most anticipated reads this year. When I met Emily St. John Mandel at SIBA 2012, I almost died … I fangirled so hard. This book was fantastic and absolutely did not disappoint.
There are a lot of characters in this book, and what I love about this author is she finds unique and surprising ways to make the various characters and their story arcs come together. The book is full of those "ah-ha" moments when you understand how one character and/or timeline is related to something that you thought was entirely separate. The ONE thing I didn't love about Station Eleven is that, at times, the characters felt a bit at arms' length from me as the reader. While they were written incredibly well, I didn't always feel the closeness to the characters I wanted. That being said, that is literally the only thing I didn't love about this book.
However! I loved so much about this novel. The fact that this is a post-apocalyptic novel shouldn't scare you away, as it is entirely different from any book of its kind that I've read before. For the most part, the story takes place fifteen years after the flu that destroys the world, so the characters are in a place where they have survived the worst of it and are deeply entrenched in a new way of life. So much of this book is not really about the end of the world at all, it's about the people who are left and the lives they've clung to, the new world they've made for themselves.
And her writing is to die for. There is a short chapter listing many of the things the world lost once the flu destroyed everything and this might be my very favorite part of the whole book. It's just such a perfect snapshot of how beautiful Mandel's writing is – how clear and concise, yet filled to the brim with so much feeling and emotion it is. I just love it.
I'm not sure what else to say because Station Eleven is truly excellent. I am so happy Mandel is getting so much attention for this novel because she's the kind of author you don't see every day. Her stuff is unique and interesting and she is truly so talented. Highly recommended!