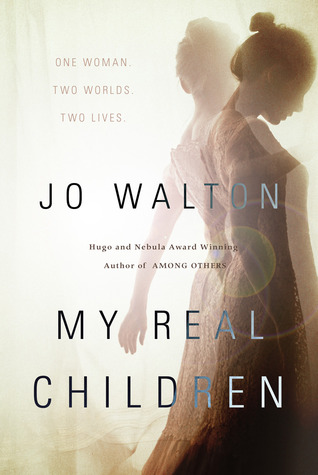 My Real Children by Jo Walton
Published by Tor Books
From the publisher:
It's 2015, and Patricia Cowan is very old. "Confused today," read the notes clipped to the end of her bed. She forgets things she should know—what year it is, major events in the lives of her children. But she remembers things that don't seem possible. She remembers marrying Mark and having four children. And she remembers not marrying Mark and raising three children with Bee instead. She remembers the bomb that killed President Kennedy in 1963, and she remembers Kennedy in 1964, declining to run again after the nuclear exchange that took out Miami and Kiev.

Her childhood, her years at Oxford during the Second World War—those were solid things. But after that, did she marry Mark or not? Did her friends all call her Trish, or Pat? Had she been a housewife who escaped a terrible marriage after her children were grown, or a successful travel writer with homes in Britain and Italy? And the moon outside her window: does it host a benign research station, or a command post bristling with nuclear missiles?

Two lives, two worlds, two versions of modern history. Each with their loves and losses, their sorrows and triumphs. My Real Children is the tale of both of Patricia Cowan's lives…and of how every life means the entire world.
Okay, so I loved this book. Let's just start there. Not just "oh it's a great book" love, but "OMG AMAZEBALLS I need more Jo Walton in my life!!!" love. So that being said, I'm not sure I can quite do the book justice. But I'll try.
I was going to start by saying that I hadn't read a book like this before, but that's not exactly true, because My Real Children reminded me of The Post-Birthday World by Lionel Shriver. And I really, really liked that book. A LOT. But it's a bit long, and very literary, and while those things are fantastic and I enjoy a meaty, literary novel from time to time, My Real Children felt … easier? More authentic? Not sure exactly what I mean, but it was smoother, I was wrapped up in Patricia's story, her two lives, from the very first page, and it was like I was a part of both stories, rather than being outside of them as a reader.
This novel just delivers so much to think about. If you had the option of choosing a life of personal happiness while the world around you was slowly going to shambles OR a mostly peaceful, normalish world with an incredibly unhappy personal life, which would you choose? I think I know what I'd pick, but even on the surface, the "happier" life for Patricia has a ton of challenges and things that just make it really, really hard. And even in her disastrous personal life, ultimately there are things that happen that are beautiful and bring pure joy to her life … so which is "better"? Which is the actual life that Patricia lived?
What I like about My Real Children is that it asks a lot of questions but gives very few answers. It leaves most everything up to the reader's own interpretation. When I first finished the book, that annoyed me, but upon thinking about it for several weeks I admire what Walton did. I love that I'm still thinking about this book over a month after I finished reading it. I like that I'm wanting to go back and reread it, to try to decipher for myself some clues that Walton may have left throughout the text to help me uncover what her intentions with Patricia's lives actually were (I don't know if there are clues, but I want there to be). I love that I'm hoping Walton's other books are as fantastic as this because I am already a huge fan of hers.
I loved this book. Please read it. That is all.